Foxes Reach
Catbrook near Tintern
Tel: 01600860341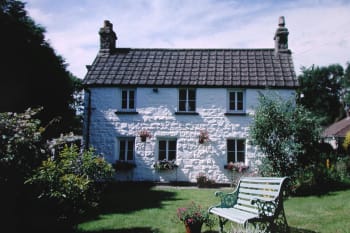 Warm welcoming exceptionally well equipped stone cottage with own hot tub .Great character yet up to date, in charming, fenced cottage garden. Quiet not isolated rural hamlet near Tintern. Winner Wales Best Visitor Welcome 2015 Character cottage with many original features, but fully renovated Sleeps 6 plus one baby Central heating included 6.30 am to 10.30 pm daily Pet welcome. Garden fenced. Great walking from doorstep. Superfast WiFi included Hot tub Residential rural area, houses nearby .Not overlooked No noisy roads Comfort, location and civilized convenience. 2 double bedrooms with TV - 1 with a 5ft. King size bed and 1 with a standard 4'6" double bed 2 single bedrooms with TV Excellent range of rural pubs offering great food within 2 miles Infant's travel cot ,fireguard, stairgates, 2 highchairs free of charge on request. Bathroom / WC upstairs Downstairs shower room / WC Wealth of local sights/activities
Availability
There are no rooms available at Foxes Reach
for these dates.
Please try other dates or select a
different property
.
cottages
Max:
Room Facilities:
usb ports
Supermarkets deliver
Visiting hairdresser
Hot Tub
Cycle/golf club store
Patio with furniture
Sheltered fenced garden
Superfast WiFi
Bath Tub
Bath/Shower
Central Heating
Ceramic Hob
Coffee Maker
Complimentary Toiletries
Cooker
Dining Area
Dishwasher
DVD Player
Electric Shaver Point
Freezer
Fridge
Hairdryer
Ironing Facilities
Jacuzzi
Kitchen
LCD/Plasma Television
Linen & Towels Supplied
Living Room
Microwave
Multi Fuel Wood Burning Stove
Personal Safe
Private Car Space
Radio
Satellite Television Channels
Shower Room
Tea/Coffee
Telephone
Television
Tumble Dryer
Washing Machine
Extra Linen On Request
Log Fire
Facilities
Hot tub
Cycle /golf club store
Pet friendly
Infant equipment free ( list on request)
central heating included
Linen and towels included
Private parking
USB charge ports and ipod docks
Woodburner
superfast WiFi and internet TV
Garden For Residents' Use
Golf Course (nearby)
Hiking
Safe for valuables
Shop (nearby)
Terrace
Wi-Fi
BBQ Facilities
Policies
Check In: Between 17:00 and 23:45
Check Out: Between 1:00 and 9:30
Wi-fi: Wireless internet is available and is free of charge.
Smoking: There is no smoking permitted anywhere within the property.
Parking: Parking for all guests is available on site and is free of charge.


Children: Children of all ages are welcome.
Pets: Pets are allowed at a charge of £5.00 per day.
Groups: All groups are accepted.
Average
4.8
out of 5
49 reviews
100% recommend
Reviews
14th March 2020:

Beautiful cottage with fantastic amenities
Would Recommend: Yes
21st February 2020:

Would Recommend: Yes
28th January 2020:

Beautiful cottage. Me, my other half and two children ( 15 and 6) and the dog stayed for the weekend. We lead a very busy life and although we had planned to do lots of things we never did in the end because we were so relaxed just staying in and having family time. Our batteries are definitely recharged now. Thank you for a lovely weekend.
Would Recommend: Yes
21st January 2020:

Just a great experience...
Tips:
The Fountain Inn pub was great Freshly cooked food & great local beer
Would Recommend: Yes
30th December 2019:

Would Recommend: Yes
15th December 2019:

Very friendly and welcoming. Nothing is a problem, we have visited more than once and there is never a problem to fix. If you want complete peace, this cottage is great.
Would Recommend: Yes
7th October 2019:

The cottage is very well maintained, small but cosy with easy access to the Wye Valley and all it's wonderful walks. Plenty of leaflets to browse at the cottage.....more than I have seen in any other holiday home. Plenty of room for four adults, but I personally think it would feel a little crowded downstairs with six people staying. My favourite room.....the kitchen/diner.....
Tips:
So many walks, castles and places to visit! Haven't found anything we didn't like even after many visits to this area. The new Gin Distillery......Catbrook outskirts.....which opened in July was interesting and you can sample the gin before you buy.....as was the Vineyard in Tintern.
Would Recommend: Yes
24th August 2019:

This is a very comfortable and well equipped cottage. Everything was accurately described on the website and my family and I thoroughly enjoyed our stay.
Would Recommend: Yes
26th July 2019:

A lovely cottage we have stayed in twice before.
Would Recommend: Yes
19th July 2019:

I rarely post reviews, but happy to do so in this case. The 5s for facilities and cleanliness says it all - and the hot tub was a bonus. Excellent communication from owners before we arrived. The 4 for Location is only because its relative isolation was made more difficult by the road closure through Tintern.
Would Recommend: Yes
Owner Response:
Thanks so much for taking the trouble to add this review. yes we know all about the closure of our local A road! there was a cliff fall onto the road last winter and the County Council needed to major work. We were able to advise guests of the work and the necessary diversion ahead of arrival as you know but we agree it was a nuisance for some weeks. That road was originally built in the 1800s to take upmarket visitors to Tintern Abbey by horse and carriage and the geology has not taken kindly to cars and lorries! Delighted however that you loved everything else that it was in our power to control!
28th April 2019:

Lovely welcome and advice, cottage is very cosy and has all the facilities required.
Tips:
Fountain Inn for great food, local beer and a great bunch of people. Rose and crown in Tintern for great home cooked food. Chepstow and Raglan for castles, Tintern for nice walks. Great area go explore!
Would Recommend: Yes
14th April 2019:

Fantastic hosts, really good communication from start to finish. Fiona and team have created a really wonderful place to recharge the batteries. The fireplace was a real treat as was the jacuzzi, great wine on arrival too.
Tips:
There's lots to do in the area, we managed horse riding, Symonds Yat (the east car park) and took the walk down to the river. The Big Pit was great, although the ride was hair-raising through the fog-all part of the adventure though, kids loved it. The walk from Tintern to Brockweir was doable and great views of the area. All in all a fab week!!
Would Recommend: Yes
2nd April 2019:

Lovely cottage, extremely clean with very good facilities and a feel of luxury. Organised fantastically from start to finish and in an ideal place for exploring the nearby areas.
Tips:
We ate at the Sloop pub near Tintern and it was wonderful homemade food catering for everyone including vegans!! Fab!! Penn y fan is under an hour drive away and is a fantastic walk!!
Would Recommend: Yes
27th February 2019:

Nice cottage. Lounge was cool in evenings. Logs available to buy, but charge £1.40 if you use a single fire lighter!
Would Recommend: Yes
Owner Response:
So glad you enjoyed your stay. The temperature in the house is 22C in the evenings but we do know some people like it warmer which is why the smart new woodburner is available- though you had gorgeous sunshine for your stay it was still February. The wood, firelighters and kindling are prepackaged so that guests can see what you are getting for your money. We dont mark them up, we provide them as a service though you can bring them from elsewhere if you wish. £1.40 is our current rate for a whole pack of firelighters. It isnt necessary to use them to light a fire but they make it easy and one pack contains enough for a whole weeks worth of fires or barbecues! Sorry you only decided to use it once and had lots over!
8th December 2018:

Beautiful cottage. Excellent facilities and the owners are very welcoming and helpful.
Tips:
Lots of locations to visit.
Would Recommend: Yes
28th October 2018:

This is a beautiful cottage in a peaceful location. The cottage is spacious and very well equipped. We were given a warm welcome on our arrival and the milk and Welsh cakes were very welcome.
Tips:
The Anchor in Tintern proved to be a good place for dinning out and the breakfast in the White Monk cafe was suburb. The cottage is located in a very rural area and there are no shops in Tintern - we later discovered that bread and milk could be purchased in the cafe. The main shops are in Monmouth or Chepstow ( approx 6 miles away) so stock up when you first arrive. There also plenty of places for buying local produce.
Would Recommend: Yes
13th October 2018:

Beautiful cottage could do with local shop and first aid box needed filling
Tips:
Down a lane with green cones on top to direct you but we still managed to miss it but worth it in the end bring plenty of groceries
Would Recommend: Yes
Owner Response:
Thanks for taking the time to review the cottage. We are so glad you loved it! Yes we agree we could do with a local shop, the nearest is 2 miles, but as you know all the supermarkets do deliver to the cottage. Sorry the first aid kit was out of sticking plasters. We ask people to replace what they have used before checkout , but someone did not and we should have noticed. Come again before too long!
6th October 2018:

Lovely cottage with every comfort
Tips:
Not walkable to a local pub - except on a Friday eve when the Village Hall becomes a pub! We had the curry from The Curry Queen, which was very nice - but the driver couldn't find us - and it was cold when it arrived- so maybe need to give clear instructions when ordering.
Would Recommend: Yes
Owner Response:
Thanks for leaving us a great review. The nearest pubs(4) are all about 2 miles in various directions. Lots of people do walk to them, but mostly for lunch in summer rather than on winter evenings. Yes our village hall has all sorts of good events to which visitors are welcome including film nights and the pub night! We are a bit surprised the curry driver was lost. They are based under 2 miles away and deliver all over the village every weekend. Can only assume they had a non regular driver! Delighted you loved the cottage. Come back soon!
26th September 2018:

First aid inadequate. We needed plasters.
Would Recommend: Yes
18th August 2018:

Would Recommend: Yes
Owner Response:
So glad you enjoyed your stay! Please come again before too long!
12th May 2018:

Perfect tranquil location, where you can unwind and recharge your batteries. Hosts very welcoming and facilities second to none
Would Recommend: Yes
1st May 2018:

Would Recommend: Yes
27th February 2018:

Beautifully maintained cottage , location a little remote in my own opinion, from the booking advertisement we thought we were actually staying in Tintern until we had the confirmation stating Catbrook .
Would Recommend: Yes
Owner Response:
Thanks for taking the time to write this review. We are delighted that you enjoyed your stay and loved the cottage .You booked via our agent not direct with us and we have again checked that their advert does say Catbrook near Tintern and does give the distance to the nearest pubs etc. For the benefit of others reading this Foxes Reach is 1.5 miles from Tintern, 2 miles from the Abbey itself (and our other cottage right in the village) , and 1.5 to 2 miles from several good pubs.The plus side is a very quiet but not isolated location, perfect for the secluded garden with its hot tub.Now you have found us come again soon!
20th February 2018:

We had an amazing weekend. Cottage was spotless and had everything you could need. We loved the hot tub! Peaceful surroundings and lots to see and do in easy traveling distance. We will definitely return.
Would Recommend: Yes
6th February 2018:

Absolutely perfect. Cosy, beautifully decorated, superb wood burner. Very welcoming and helpful owners. Spotlessly clean. Cannot find 1 fault. Definitely reccomend.
Would Recommend: Yes
Owner Response:
So delighted you enjoyed your stay- and the new kitchen (of which you were the first users!) Please come again before too long!
7th January 2018:

Would Recommend: Yes
Owner Response:
Delighted you had a wonderful new year Break- even a little snow to make it pretty but not inconvenient! Thanks also for leaving the house in good order. not everyone does and its much appreciated. Happy New Year!
19th December 2017:

We had a lovely stay at this cute cottage. There is a hot tub in a nice garden that isn't overlooked and enclosed if you are taking dogs with you like we did. After a session in the hot tub you can get cozy and warm by the wood burner. The cottage is well equipped so you will have everything you need. Lovely bedrooms and bathrooms, there is bath upstairs and a shower room downstairs. I would definitely recommend this cottage to friends and family.
Tips:
Travel down before it gets dark if possible or you could pass the turning down to the cottage. Also go with the directions given you by the owners as your sat nav isn't always correct.
Would Recommend: Yes
1st October 2017:

We had a lovely stay at Foxes Reach and was made to feel very welcome. Lovely cosy Cottage with the bonus of a hot tub. Would certainly love to return in the future.
Tips:
Some great walks around the cottage. Would recommend a visit to Whitestone where the views of the Wye Valley are amazing. The Forest of Dean is close by and a visit to Puzzlewood is also recommended. We absolutely love this area and this is our 4th visit and it certainly will not be our last.
Would Recommend: Yes
18th September 2017:

Beautiful cottage in a lovely quiet village. Easy access to main roads and motorways. Very dog friendly. Hot tub was a big bonus. Cottage facilities has everything you need. Would definitely stay again. The owners are very friendly and welcoming.
Tips:
Not far from Tintern Abbey. The Abbey Mill nearby does lovely food. Walks a plenty. Good central location.
Would Recommend: Yes
30th August 2017:

Good introduction. Long hair on tin by fire, fire front needed cleaning. Extractor fan in shower room needs cleaning. These did not detract from our stay.
Would Recommend: Yes
Owner Response:
We are really sorry that there was dust in the extractor fan in the shower room. It wasnt a lot but should not have been missed.Glad you loved everything else and would recommend us. Please come again soon!
23rd August 2017:

Lovely location, very peaceful with good walks. Some good pubs around locally for food and drink.
Tips:
Brecon Beacons is nearby, but bring good sturdy, water-proof walking shoes. The Lion Inn serves lovely food, as does the Anchor in Tintern near the abbey.
Would Recommend: Yes
21st May 2017:

Tips:
Ostrich at Newland provides probably the best pub food I have ever eaten
Would Recommend: Yes
26th April 2017:

We had a lovely long weekend in Foxes Reach with 3 children under 3. The cottage is well equipped for little ones and made staying away from home so much less stressful. The cottage itself was fantastic and the grown ups particularly enjoyed the garden and hot tub!
Tips:
We had no problem finding the cottage using Google maps. The cottage is in a lovely quiet location and a good base for exploring nearby Tintern Abbey, vineyard, Forest of Dean, Puzzlewood, etc. There's lots to see and do nearby and we would love to stay here again.
Would Recommend: Yes
16th April 2017:

Beautiful cottage with everything you could need for a very comfortable stay including a wonderful hot tub and wood burner for snuggling in for the evening.
Tips:
Fantastic area for walking and very dog friendly
Would Recommend: Yes
Owner Response:
So delighted you enjoyed your stay. We do try hard as you have seen and it is wonderful when that is all so appreciated. Come again soon!
22nd March 2017:

Would Recommend: Yes
13th March 2017:

The cottage was wonderfully equipped and the welcome by Malcolm was warm and informative. We loved the location, the local walks and exploring along with the opportunity to relax in the hot tub at the end of a busy day. The family bonding time was much needed and we all enjoyed the time in the cottage. Thank you Fiona and Malcolm :)
Would Recommend: Yes
29th November 2016:

Nice cottage, enjoyed our stay. Comfortable and clean. Ideal for us with 2 dogs.
Tips:
Lovely shorter walks from doorstep. Tintern Abbey, Symonds Yat, ate at the Anchor at the abbey, really good, The Fountain near cottage, home cooked food. Waitrose and M&S in Monmouth.
Would Recommend: Yes
22nd November 2016:

Hidden access,arrive with the day light! Great location for walks and very cosy cottage,well furnished- high standards!
Would Recommend: Yes
15th November 2016:

Very clean and the Kichen had all you needed the hot tub is nice after a day out and about. BT tv is a nice touch as well. On the down side it is a cold cottage and the heating isnt good anuf but when the log burner is on then it's wormer but you will need a bag of logs a night.
Would Recommend: Yes
Owner Response:
We found your comment about the heating after you had left. Such a shame you did not contact us whilst you were there. We did welcome you in and always say if there are any issues you should do that. The problem was that despite being newly replaced the battery in the thermostat had failed so it was not calling for heat as it should have done. As soon as a new one was fitted it warmed up.( that said it was still between 20 and 21 degrees in the cottage so not very cold.) Apologies!
15th October 2016:

Everything we wanted an more.
Would Recommend: Yes
26th September 2016:

Everything we wanted for a peaceful break away from the demands of life. The cottage itself was lovely & so well equipped. The owners had thought of everything. It was beautifully quiet & extra nice to be able to watch rabbits hopping about in the garden. The hot tub was amazing too!!
Tips:
We didn't do a lot as the purpose was to rest but the Centre for Birds of Prey was worth a visit as was a trip on the Brecon Mountain Railway.
Would Recommend: Yes
Owner Response:
Absolutely delighted your stay was really great. As you saw we do try hard and we are thrilled when you are so happy. come back soon!
28th August 2016:

Lovely cottage very peaceful except with our kids ;) Hot tub a hit. Little bit out of the sticks for us but it was a lovely place to stay.
Tips:
Good sat nav needed. Cardiff was a fab day out and we also went to bristol zoo. Chepstow good for the local tesco. The 10 walks book in the cottage was brill. We used that for a couple of days out. Symonds yat rock a def place to visit.
Would Recommend: Yes
27th July 2016:

It was a very nice stay.
Tips:
Tintern Wye Valley Hotel serves excellent meals.
Would Recommend: Yes
22nd March 2016:

Warm and friendly welcome. Cottage of a high standard. Every mod con catered for. Not sure quite so many notices are necessary - the clientele you cater for are well aware of septic tanks, tumble dryers, candle use etc. We have stayed in other five star cottages where this is a little more discrete. Quite cramped for more than four people.
Would Recommend: Yes
Owner Response:
Thank you so much for taking the time to add a review for us. We are very glad that you enjoyed your stay very much and that as there were only four of you and four bedrooms you did have plenty of space. Sorry you didnt like our notices but in fairness those are all kept on the notice board in the laundry room with the exception of the ones about the septic tank which are in the two loos. Unfortunately not everyone is as considerate as you evidently are and after several horrible blockages we have learned that they are very much required and this does seem to have helped.Apologies hat they didnt apply to you
16th February 2016:

Absolutely 5star and above from start to finish, these guys have perfected an absolute winner here.
Would Recommend: Yes
Owner Response:
What a lovely review. We are do delighted you enjoyed your stay and we appreciate that you took the time to write this. Thank you and please do come again before too long!
4th January 2016:

We stayed in the winter months so wanted a cottage that would be ideal for spending more time in than on average. Foxes Reach was superb from the moment we arrived - heating on, table set and thoughtful food gifts. Foxes Reach has everything you could wish for, hot tub, drying facilities, beautiful garden, wood burner in lounge, comfortable beds(king size in main bedroom) televisions in all rooms, plus all the extras you didn't realise you needed until you spotted them, candle holders, hot water bottles, reading material, games, coffee machine, beautiful lighting plus lots more. We would hope to return in the summer too
Tips:
The cottage is dog friendly and having taken ours we would recommend the many walks in the area. The Fountain pub which is five minutes drive away (can also walk) serves beautiful food and very friendly (dogs welcome). Monmouth is a lovely place to visit with independent shops, many eateries and a lovely old cinema. Would also recommend the steam train through the beautiful countryside (again dogs welcome on most journeys)
Would Recommend: Yes
Owner Response:
Thank you so much for taking the time to leave this review, We do work hard to give a really warm welcome as well as all the little extras and we so love it when that effort is appreciated. We are so glad you enjoyed your New Year stay! Kind regards to you all
25th October 2015:

The cottage was absolutely lovely and the smalltouches very much appreciated.
Would Recommend: Yes
12th October 2015:

Lovely cottage with everything you could wish for. Very comfortable bed. Lovely furnishings. Lovely hot tub. In a great location for wonderful walks and beautiful scenery. I definitely want to return.
Tips:
Walk up to the devils pulpit for great views of tintern. Lovely walk along the river to the old station. The anchor inn in tintern ..Lovely food and allows dogs inside.
Would Recommend: Yes
6th September 2015:

Tips:
We enjoyed all our visits to Chepstow, Monmouth, sculpture trail at St. Arvans etc. but particularly liked the gardens at Dewstow and the story behind them.The museum and Roman site at Caerleon were also well worth a visit.
Would Recommend: Yes
.