Cowshed Cottage and The Dairy
Gage Farm Newland
Tel: 01594833259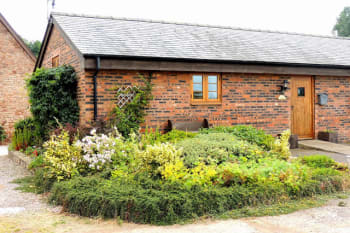 4* single-storey cottage overlooking historic courtyard. Sleeps 4, but 2 person discounts - just ask! Stunning rural location, with shops/pubs within 1 mile. Circular walks from the door. Two bedrooms both with en-suite facilities and full central heating. Enclosed garden. Off-road parking. Secure storage available for bikes, canoes, etc.
Availability
There are no rooms available at Cowshed Cottage and The Dairy
for these dates.
Please try other dates or select a
different property
.
cottages
Max:
A warm welcome awaits you at our four star single storey cottage, over looki... more >
A warm welcome awaits you at our four star single storey cottage, over looking an historic courtyard. Stunning views and circular walks from your front door. Two bedrooms (both en-suite). Enclosed garden and off-road parking. Secure dry storage for bikes etc. Short breaks available. see our film on www.cowshedcottage.co.uk and decide if this suits you! look forward to hearing from you soon...Room Facilities:
Enclosed patio/lawn garden
BBQ facilities
Secure dry storage for bikes/canoes, etc.
Max:
In a peaceful location with stunning views, this well-appointed 4* single sto... more >
In a peaceful location with stunning views, this well-appointed 4* single storey cottage overlooks the Wye Valley and Forest of Dean. Two bedrooms both en-suite. Modern fully equipped kitchen. Footpaths directly from the door. Shops/restaurants within 1 mile. Short breaks available.Room Facilities:
Enclosed patio with BBQ facilities
Secure dry storage for bikes/canoes, etc
Bath/Shower
Central Heating
Cooker
Dining Area
DVD Player
Electric Shaver Point
Ensuite Bath/Shower Room In Unit
Freezer
Fridge
Hairdryer
Ironing Facilities
Kitchen
LCD/Plasma Television
Living Room
Microwave
Private Car Space
Radio
Shower Room
Tea/Coffee
Washing Machine
Coffee Maker
Television
Complimentary Toiletries
Dishwasher
Facilities
BBQ Facilities
Disabled Access
Garden For Residents' Use
Hiking
Shop (nearby)
Terrace
Policies
Check In: Between 16:00 and 20:00
Check Out: Between 9:00 and 10:00
Wi-fi: Wireless internet is available and is free of charge.
Smoking: There is no smoking permitted anywhere within the property.
Parking: Parking for all guests is available on site and is free of charge.


Children: Children aged 5 or over are welcome.
Pets: Pets are not allowed.
Groups: Groups are accepted up to a maximum of 4 people. No stag and hen groups.
Average
4.9
out of 5
43 reviews
100% recommend
Reviews
23rd February 2020:

Very friendly and helpful, highly recommended!
Tips:
Great mountain biking in and around the Forest of Dean. Secure, on-site storage available for bikes. Lots of pubs and restaurants to choose from.
Would Recommend: Yes
3rd November 2019:

Fantastic cottage in a perfect location for exploring the Forest of Dean, lovely welcoming host and a very well equipped cottage! We couldn't ask for more, will definitely be returning!
Would Recommend: Yes
3rd October 2019:

Superb accommodation with every facility necessary for a comfortable stay.
Tips:
recommended: 40 minute cruise on river Wye. The Butcher's Arms at Clearwell for meals. If visiting Ross-on-Wye try the Thai Restaurant - very good. Unfortunately the local Ostrich Arms was closed due to staff illness the night we were going to go so can't comment on that.
Would Recommend: Yes
25th July 2019:

Excellent hosts and venue.
Tips:
Plenty to see and do. We visited a place of interest in the morning, found some lovely places to eat lunch and walked in the forest in the afternoon most days.
Would Recommend: Yes
3rd July 2019:

Lovely comfortable cottage with everything you could wish for, well almost, a shower mat would have helped, the shower tray has a nonslip pattern but it does not work well when wet, the provided grab handle helped a lot but footing still difficult(age and replacement hips!)
Tips:
Orepool Restaurant 10 minutes down the B4228 at Sling was a very friendly and good quality food beautifully presented and at a more reasonable price than others. Enjoyed Puzzlewood.
Would Recommend: Yes
7th June 2019:

A lovely property in a great location and fantastic helpful and friendly hosts. Lots to see and do within a 10 minute drive, great local walks, and a comfy cosy cottage that has everything you could want and more.
Tips:
The walk down to the ostrich pub is lovely on a sunny evening.
Would Recommend: Yes
19th May 2019:

We had a really lovely stay in The Dairy. It was home from home. Such a lovely location. Very comfortable cottage with everything you needed. We were made to feel very welcome. Would stay here again.Lots to see and do. The walks from the cottage across the sheep and lamb filled fields were great. Thank you Eileen and family.
Tips:
Tintern Abbey is beautiful. Symonds Yat has great views and the boat trip along the river was so peaceful. Puzzlewood is amazing. Nearly filled my camera with photos!
Would Recommend: Yes
Owner Response:
Thanks for taking the time to write a review and it was a pleasure to meet you all....would love to welcome you back, don't forget we do short breaks if you feel the need!....best wishes, hope you have a good summer, Eileen
7th April 2019:

A very warm welcome from Eileen and John including the most delicious welsh cakes. Cowshed cottage is beautiful; very comfortable and so clean - the best I've ever stayed in so far. Eileen and john have equipped it with absolutely everything needed for a stay. There's a gorgeous little private garden.
Tips:
The cottage is close to the main roads in all directions.We could easily get to Coleford, Monmouth, Symmonds Yat. The Black Mountains are only 40 minutes away. The Cycling Centre in the Forest of Dean is about 30 minutes away. The New Inn in Ross Rd, Coleford GL16 7NT does really lovely food - we went twice! We also recommend Cinnamons 12 St John St, Coleford GL16 8AR Indian restaurant or take away - really nice food.
Would Recommend: Yes
Owner Response:
Many thanks for your kind comments - you crammed a lot into your short stay with us, but there's still plenty more to see and do!!
30th March 2019:

Elaine was lovely, helpful but not intrusive. The many items included tea, coffee etc was a helpful addition as was the inclusion of towels. Plenty of information in the folders.
Would Recommend: Yes
Owner Response:
So pleased you enjoyed your stay with us, and the weather for March was brilliant for your birdwatching!
26th October 2018:

An excellent stay. Everything you could possibly want is provided plus a load of things you didn't even know you wanted. Very comfortable, warm and spacious. Lots of books and games, TV and Wi-Fi. You really only need to take clothes and toiletries!
Tips:
Lovely area, beautiful scenery, and so close to many tourist attractions. The Ostrich in Newland must not be missed for a superb meal with extensive menu and good prices, great atmosphere and welcoming hospitality.
Would Recommend: Yes
5th October 2018:

We were extremely pleased with out stay in 2017, so did not hesitate to book again when we wanted to come this year. We were not disappointed - this is still one of the best cottages we have ever had, as much for the many personal touches and welcome as for the cottage itself. Highly recommended.
Would Recommend: Yes
10th August 2018:

very friendly and helpful, only downside is the very small fridge otherwise all is perfect
Tips:
Coleford is very handy for co-op and tescos
Would Recommend: Yes
2nd June 2018:

Very friendly and helpful, nothing was too much trouble.
Tips:
Would advise that you book a table at local restaurants as we found that they were unable to find a table if you just show up.
Would Recommend: Yes
29th May 2018:

Warm and friendly welcome. Excellent accommodation Easy parking close to front door. Small attractive garden . Beautiful views. Many walks in the countryside. cottage all on a level ground floor suitable for less mobile holidaymakers. Close to pubs, town, tourist attractions. Sheep on the hillside. What more could we want!
Tips:
Close to Symonds Yat Rock viewpoint,market town,Tintern Abbey and village, Puzzlewood, Lydney Park Gardens (Spring only) Clearwell Caves, River Wye, Monmouth, including Shire Hall. N.T.round house and viewpoint at The Kymin. All suitable for families or older people.
Would Recommend: Yes
27th May 2018:

Extremely well appointed cottage. Fantastic location. Hosts were very hospitable.
Tips:
Local pub in Newlands village served great food. Great walks at Symonds Yat. Puzzlewood was a unique, beautiful place to walk.
Would Recommend: Yes
20th May 2018:

First rate cottage & location, very friendly & helpful hosts
Tips:
Kaplan's restaurant for good food , odds & ends for gifts Puzzlesood , clearwell caves are worth a visit, symonds yat if you want to see the peregrines
Would Recommend: Yes
7th October 2017:

Perfect in every way' Greatly appreciated the little extras and the warmth and friendliness of the welcome.
Tips:
Perfect area for walking for all abilities. An excellent location for all attractions of the Forest. We did not eat out much but did like the Kaplan Restaurant in Coleford with an extensive daily menu.
Would Recommend: Yes
3rd October 2017:

Welcoming gift of Welsh cakes, a pint of milk and box of chocolates was a nice touch. Tea, coffee and sugar also provided but strangely, no salt or pepper in the cruet. Would have liked brighter bedside lights in the bedrooms - a little too dark to read in bed. Some of the tourist information leaflets were several years out of date but we left hundreds of our own so shouldn't be a problem now! As you can see, if the only thing missing was a bit of pepper, we had a fantastic time.
Tips:
Tewkesbury, Ross on Wye, Ledbury, Monmouth and Chepstow all well worth visiting. Best view is from Symond's Yat, plus Peregrines and Goshawks there. Nagshead RSPB produced deer and wild boar and would be great for birds in spring. Best birdwatching was at Ham Wall RSPB near Glastonbury (90 minutes drive) - Glossy Ibis, Great White Egret, Bitterns, Kingfishers, Pectoral Sandpiper, Hobbies etc
Would Recommend: Yes
17th September 2017:

Very friendly and welcoming (delicious, home-made Welsh cakes waiting for us!), a relaxing, home-from-home cottage, comfortable chairs and bed, and great facilities. An outside sitting area with tables and chairs is the icing on the cake.
Tips:
Coleford is a half-hour walk via the scenic and interesting "burial path" (to Newland Church). There are really good walks all around, both in the Forest, across fields, and by the river. Cannop Ponds is a great place for wildlife and one can often see bats feeding over the water at dusk. Tintern Abbey is, of course, glorious, and Goodrich Castle is well worth a visit. Symonds Yat provides unbeatable views over the river, nearby cliffs and surrounding countryside. Altogether perfectly placed in wonderful surroundings.
Would Recommend: Yes
14th August 2017:

Wonderful cottage, so restful and relaxing. I would definitely stay again.
Tips:
Newlands church and the Ostrich pub there. Puzzle wood, Perrygrove railway, Chepstow beautiful place and Lydney train station very handy.
Would Recommend: Yes
10th July 2017:

The Dairy is extremely comfortable and very well equipped. The owners go the extra mile - we much appreciated the unexpected Welsh cakes, milk. fresh flowers etc.
Tips:
If you enjoy walking stay here. Just a pity some of the footpaths are not clearly signposted. We recommend visits to Dean Forest Railway, Clearwell Caves, Tintern Abbey, Monmouth and Ross on Wye.
Would Recommend: Yes
2nd July 2017:

Excellent property with much thought gone into guests' comfort. Our hosts were very welcoming and friendly, and we felt we could call on them for anything although this wasn't necessary. This is the best self catering accommodation we have ever stayed at. Thank you.
Tips:
Many attractions to see in area though we were restricted to wheelchair friendly places. Especially liked the Birds of Prey Centre, the Dean Heritage Centre and the Steam Railway at Norchard. Good value meals at the New Inn, the Old Court Hotel and would highly recommend the Dog and Muffler but all need to have tables reserved in advance.
Would Recommend: Yes
12th June 2017:

The cowshed is a beautiful cottage and surroundings, the cottage is well equipped and furnished, Eileen and John are most helpful and pleasant
Tips:
Puzzlewood, clearwell caves are worth a visit as is raglan castle there are plenty nature reserves kapplans café in Coleford is value for money if you like large fish and chip portions try the tram stop in coleford nice little gift shop in coleford called odds and ends
Would Recommend: Yes
4th June 2017:

Cowshed Cottage is as good as any self-catering place we have rented over the past thirty years. We were delighted, not only with the quality of the furnishings and equipment, but with the way every detail was catered for to make it a real home-from-home
Tips:
As we lived in Coleford for six years we spent our time visiting friends and walking in the Forest. We did few of the normal 'tourist' things, but did visit and were most impressed by Tewkesbury Abbey and town, and would recommend at least a day to visit it.
Would Recommend: Yes
21st May 2017:

Excellent accommodation. Hospitable and helpful owners.
Tips:
Countryside, River and Forest all very pretty and unspoilt.
Would Recommend: Yes
24th April 2017:

The diary is delightful with views in all directions. A small patio garden was a lovely place to spend the late afternoon and evening after long days walking. We never needed our car as walks are on the door step. The cottage was immaculate and the kitchen was amazingly well equipped. Eileen and John could not have been more helpful with welcoming welsh cakes and genuine interest in our days in the Forest.
Tips:
Although we did eat there this time The Ostrich is Newland is a treat not to be missed. The Sculpture Trail combines walking and art and is worth a visit.
Would Recommend: Yes
19th March 2017:

The accomodation is of a high standard and very well presented, and very comfortable. We were greeted by Eileen who bakes excellent welsh cakes! Basics like toilet/kitchen rolls, milk, tea, washing up liquid all provided.
Tips:
The Boat Inn has good beer and is reached by a spectacular footbridge over the River Wye, and the Ostrich in Newland does excellent food in very generous portions.
Would Recommend: Yes
6th October 2016:

Lovely warm welcome from Eileen Wood after excellent correspondence and communication regarding our booking. Cottage was a perfect base for our walking holiday. Very well equipped, we were warm, cosy and had everything we needed including wonderful views, sunrises and sunsets.
Tips:
We loved the Ostrich pub in Newland for evening meals. Good base to explore Symonds Yat, Wye Valley and Forest of Dean
Would Recommend: Yes
31st August 2016:

These properties are situated on a farm complex in a peaceful setting close to Coleford in Gloucestershire. They are equipped with everything you would want for a wonderful holiday. Each property has two bedrooms and two bathrooms.
Tips:
There are lots of wonderful off-road walks in the area. Gloucester Docks and Waterways Museum are well worth half a day, or even longer, if you wish to eat there or shop in the Outlet Shopping Centre. There's also the Dean Forest Railway nearby. Monmouth is a lovely town with lots of historic buildings to visit on a walking tour. For shopping Monmouth has a Lidl, M&S Food and a Waitrose.
Would Recommend: Yes
31st August 2016:

Would Recommend: Yes
27th August 2016:

What a fantastic cottage and setting, easy to find, a very good base to go from around the Wye valley. the owner is lovely, and very helpful on local attractions, and leaves home made welsh cakes and a pint of milk to get you going. We will be going back next time!
Tips:
Simons Yat is a must, as it the river trip and canoe hire. Rhagland castle in the summe is great with re-enactment groups. so much to see and do.
Would Recommend: Yes
7th August 2016:

Fantastic cottage with absolutely everything provided by Eileen who made our short stay here fantastic and we would definitely recommend the Cottage to others.
Tips:
We are a family of four and stayed for 3 nights and did the following which we would recommend: Mountainbiking - we hired bikes for the day and had a really great time. We rode the easy family route twice and the blue route once. The blue route was more challenging. Go Ape - Great fun for everyone. Ostrich Inn - well worth the short drive to Newland but as suggested we walked across the fields from the cottage to the Inn. A lovely walk rewarded by a great meal, but no kids menu so not much if anything for them. Puzzlewood - Worth a trip as the walk through the woods is fun and the kids will love it...slippery paths. The only downside was the lack of wi-fi and mobile network which prevented us from checking out things to do and routes to go. However Eileen did bring this to our attention and as this was a very late booking I had no time to do research beforehand. There is however 3G in the adjoining fields so it was lovely to sit there and do any research as the sun went down. Great place and we highly recommend.
Would Recommend: Yes
6th August 2016:

We could not fault this cottage in any way.. To have milk in the fridge and homemade welshcakes ready for our arrival was very thoughtful- we could have a cup of tea before unpacking!! The cottage was like home from home- you really have thought of everything your guests would need. I can't think of anything that was missing! So thank you very much for a most relaxing and enjoyable fer days.
Tips:
The cottage although situated in the countryside,is not far from places to visit. We spent some time in Monmouth and Ross-on-Wye. Lovely shops- lots of them different from your average chain stores. A good choice of nice cafés and hotels for coffe o'r a meal.
Would Recommend: Yes
2nd August 2016:

The cottage has all you need for a comfortable stay. If you want somewhere where you can get awayfrom it all, (no wifi-or mobile phone signal)this is the place!!
Tips:
Local pub within walking distance serves great food and Coleford is just a few minutes away by car for your shopping needs.
Would Recommend: Yes
26th July 2016:

Amazing stay. Amazing people and the location it beautiful
Tips:
Walks everywhere all are brilliant. Good family trials, nice pubs and local shops not far away.
Would Recommend: Yes
16th July 2016:

Fantastic cottage in a wonderful location. We received a warm, friendly welcome and appreciated the tea, milk and tasty lemon drizzle cake which awaited us. Very comfortable sitting room and bedrooms. Well equipped kitchen/diner. Pleasant patio garden. Both ensuite shower rooms were spotless. We found the cottage to be an excellent base for exploring the area. Lots of nice touches like tissues in the bedrooms, rose water spray in the shower rooms, Dvds, books, jigsaws and board games for the evenings. Lots of info provided on places to visit and places to eat. All in all we had a fab holiday.
Tips:
We loved the nearby Ostrich Inn in Newland (great walk from the cottage through the fields to it). Also loved the Italian restaurant. La Piccola, in Monmouth. Enjoyed visiting Goodrich Castle, Puzzlewood, Clearwell Caves, Tintern Abbey, Raglan Castle .....phew ...plenty to do and see. Even managed to travel a little further afield to Hay-on-Wye (lots of quirky book, antique and gift shops).
Would Recommend: Yes
Owner Response:
Hi, many thanks for taking the time to comment on our cottage and I'm glad the lemon drizzle cake went down well! Hope your daughter enjoyed her Dr. Who, Merlin, Starwars film trail. Kind regards, Eileen
12th July 2016:

Cowshed Cottage was perfect for a short break or a holiday. My father has limited mobility and the single level accommodation was ideal. The location was great and views around the cottage were delightful. Owners were friendly and helpful. Love the Wye Valley and hope to return soon.
Tips:
Enjoyed visit to Skenfrith Castle ruins, Ross on Wye and Monmonth and further afield Ledbury to the North and Chepstow to South. Particularly enjoyed lunch at Community café/shop in Brockweir near Tintern and also Woods of Whitchuch, a café/ shop and Art gallery.
Would Recommend: Yes
19th June 2016:

Lovely welcome from Eileen who has thought of everything at Cowshed Cottage. We enjoyed our stay immensely and would highly recommend.
Tips:
Goodrich, Raglan and Chepstow castles all well worth a visit. Walks at Tintern Old Station and Symonds Yat (peregrine walk) with welcome refreshment stops very enjoyable. New restaurant in Monmouth the Estero Lounge ( opposite Waitrose high street entrance) great food available all day. Also excellent Sunday lunch at Ostrich.
Would Recommend: Yes
Owner Response:
Many thanks for your lovely comments, I really enjoy sharing our beautiful Forest of Dean/Wye Valley with guests!
5th June 2016:

Fantastic accomodation lovely little touches from owner on arrival a fantastic bara brith and box of chocolates which the children soon polished off. the cottage was spot less and very well equipped with everything you need and more for self catering, lovely back garden to rest after along day of activities would fully reccomend to friends and family
Tips:
The cottage is a stones throw away from loads of activities,walks and pubs. 1 pub a ten minute walk from the cottage called the Ostrich in new land is amazing plenty of real ales from local breweries and the food is just amazing well worth a visit.
Would Recommend: Yes
Owner Response:
Thankyou for your comments, it was a pleasure to meet you all and I'm really pleased that you enjoyed this amazing area -even the weather behaved, best wishes, Eileen
3rd June 2016:

Eileen and her husband were very welcoming and nothing was too much trouble, they told us of places of interest and there was lots of brochures. The cottage itself was immaculate and there was everything at hand. I would certainly recommend the cottage to anyone who wanted a wonderful holiday in a beautiful spot.
Tips:
Plenty of eating places and the cottage is very good for getting around all the local beauty spots.
Would Recommend: Yes
29th May 2016:

Probably the best holiday let we have ever experienced; and we have been to quite a few! Excellent in all respects, plus thoughtful touches such as sweeties and cakes to greet you.
Would Recommend: Yes
3rd May 2016:

Very kind owners who add little touches to make your stay special. The cottages are comfortable,very clean and cosy. Our daughter stayed overnight and went to her wedding from here. There was plenty of room for her to get ready and her bridesmaids to join her before going to her wedding. I would recommend for anyone attending a wedding close by.
Tips:
Plenty of beautiful countryside for walks and tourist attractions but intermittent phone signal and no wifi so it's difficult to stay in contact with anyone. However for a getaway from it all its perfect.
Would Recommend: Yes
29th April 2016:

Would Recommend: Yes
.