The Old Dairy
Jubilee Road
Tel: 07791690239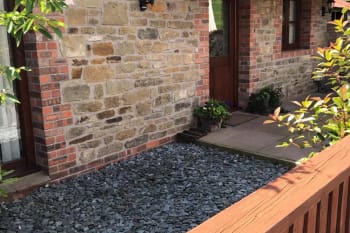 The Cottagse are located on a pretty rural lane, backing onto fields and backed by woodland. Opposite is the Gloucestershire Way, a great start for a walking holiday. In addition, there are many beautiful walks that can be taken in the immediate vicinity and at the end of the road is St Anthony's Well, a local beauty spot. You could easily find that you've been staying at the cottagse for several days before you even think about using the car! Come and pay a visit to England's hidden gem!
Availability
There are no rooms available at The Old Dairy
for these dates.
Please try other dates or select a
different property
.
cottages
Facilities
Located on Gloucestershire Way
Garden For Residents' Use
Terrace
Wi-Fi
Policies
Check In: Between 15:00 and 23:00
Check Out: Between 7:00 and 10:30
Wi-fi: Wireless internet is available and is free of charge.
Smoking: There is no smoking permitted anywhere within the property.
Parking: Parking for all guests is available on site and is free of charge.


Children: All guests must be 18 or over, no children are allowed.
Pets: Pets are allowed at a charge of £15.00 per stay.
Groups: No stag and hen groups.
Average
4.8
out of 5
64 reviews
100% recommend
Reviews
26th July 2020:

Loved the'Old Dairy' so much, I'd actually move in ha ha. All the 'little extras' were so personally thought of. The dog blanket, poo bags and dog bones were really appreciated. The scones that were left for us to enjoy when we arrived as well as the fresh flowers in a vase too :) Also nice to see that with current situation, that a hand sanitiser had been placed outside the front door as well as fresh and clean cloths and antibacterial spray as well as face masks. Absolutely LOVED our stay x
Tips:
Not far from any pubs or venues. Obviously with current situation,more places are opening more each day, this didn't affect us at all.
Would Recommend: Yes
14th July 2020:

Would Recommend: Yes
25th March 2020:

Excellent cottage. Clean and well equipped. Very comfortable.
Tips:
Difficult to comment as we were restricted in what we could do due to coronavirus. Lovely area though. Would go back given the chance.
Would Recommend: Yes
9th March 2020:

Excellent small lodge , very comfortable and cosy ... highly recommend
Tips:
Fab walk-in in the Forest of Dean, great for dogs
Would Recommend: Yes
27th January 2020:

My second stay at the cottage, perfect place for a relaxing stay.
Would Recommend: Yes
20th January 2020:

Perfect stay and position for the cycling nearby and ideal for walking my dog. Had a peaceful and relaxing time :)
Would Recommend: Yes
5th January 2020:

Would Recommend: Yes
30th December 2019:

Our second stay at The Old Dairy ,is everything we wanted piece and quiet and time to relax and unwind with nice walks when the weather permitted . The cottage was nice and clean everywhere and lovely and warm when we arrived .next time we might try the Glamping in the Nook also run by Lorraine .
Would Recommend: Yes
9th December 2019:

The Old Dairy is a warm, clean and welcoming space which is tastefully furnished with lots of thoughtful extras. A real 'home form home'. Plenty of hot water and everything needed for a peaceful break away. Very dog friendly and plenty of info about the area with good food recommendations. Thoroughly recommended.
Would Recommend: Yes
26th November 2019:

Very comfortable cottage on a quiet lane with interesting walks nearby.
Would Recommend: Yes
7th October 2019:

We can't fault the cottage. On the contrary it's a fantastic place to stay and lots of other places to visit. It's not far from Mitcheldean, which has good shopping and plenty of places to eat. Car parking is right outside the door through a secure gate which was very handy as our dog as it kept him safe from the road.
Tips:
We went to plenty of places during our short stay including Raglan Castle, Abergavenny, the Black Mountains, Brecon and the Forest of Dean, where we saw a male wild boar about 5 metres from the car. There are some interesting walks too. We can recommend the Red Hart but found the Farmer's Boy at Boxbush a little disappointing. We also had a Chinese takeaway from The Golden Kitchen which was hot, tasty, well cooked and too much to eat! We need to come back here to visit more places, especially the pubs!
Would Recommend: Yes
7th October 2019:

All fine
Tips:
Sculpture park excellent Weston cross good pub
Would Recommend: Yes
26th September 2019:

Would Recommend: Yes
18th September 2019:

Would Recommend: Yes
10th September 2019:

First class accommodation, spotlessly clean. A really relaxing retreat and perfect for dogs.
Tips:
The walk at Symonds yat is stunning.
Would Recommend: Yes
29th August 2019:

Perfect little cozy cottage in a perfect location. Cottage was clean & well presented upon arrival along with a lovely welcome pack, including tea, coffee, milk & some lovely homemade scones. Lovely walks through the forest in this area, which my little doggies loved. Perfect location for going to the Forest of Dean. Perfect location to go & unwind. I went with my husband & 3 small dogs.
Tips:
Great for walkers as lots of places to go for long walks
Would Recommend: Yes
19th August 2019:

Would Recommend: Yes
17th July 2019:

Very enjoyable stay at the old dairy cottage.An ideal place to have a dog plenty of walks in forest and you don't even need to get in the car.The old Dairy Cott is very well situated for getting to places,very quiet and peaceful we would defo recommend to anyone.Thankyou again.
Tips:
A few pubs in the area we used but one in particular The Dog and muffler lovely pub great atmosphere and brilliant food you will need a sat nav to find it. The address is Joyful hill Coleford the takeaways in the town are excellent the Chinese. And kebab we didn't try fish and chips.
Would Recommend: Yes
13th July 2019:

The plants and flowers really enhanced the cottage and I wii continue to visit four times a year.
Would Recommend: Yes
2nd July 2019:

Cottage very well equipped.
Tips:
Symond's Yat a great place to visit.
Would Recommend: Yes
2nd July 2019:

Lovely cottage, great stay.
Would Recommend: Yes
21st June 2019:

Would Recommend: Yes
18th June 2019:

A lovely relaxing place to stay, everything and mire than we expected, Lots of little personal touches which were much appreciated.
Tips:
There is a comprehensive list of recommendations in the cottage including dog friendly places to eat which was lovely. One of our favourites was The George at St Briavels. A visit to Symonds Yat is recommended as well
Would Recommend: Yes
14th June 2019:

Absolutely loved our stay. The cottage was lovely, clean well kept and everything you could think of was supplied. It is really quiet as well. Lovely walks around the village area. Great if you have a dog. The only comment to point out is the internet is really slow, obviously nothing can be done about that. It's ideal for general internet but no good if you wanted to stream Netflix or catch up. Freesat is provided though which is sufficent.
Tips:
We went to the local Tea room listed on the places to eat list and one of the pubs at Ross also listed, both very good. Visits to Symonds Yat and Symonds Yat peak and the Dean valley railway highly recommended.
Would Recommend: Yes
26th May 2019:

Liked the personal touches and was very well equipped. Very comfortable bed and nice bedding. Courtyard garden very nice.
Would Recommend: Yes
11th May 2019:

Wonderful comfortable cottage scenery is beautiful and good walks for dogs close by.
Tips:
The Forest of Dean is amazing for walking and my favourite dog friendly pub is the Woodsman,Parkend staff are very friendly as are the clientele.
Would Recommend: Yes
5th May 2019:

Very peaceful setting,the valley filled with birdsong. Cottage well equipped, but we couldn't work tv.. being old wrinklies .. happily we prefer the radio ! Our Vodafone mobile had no signal so a little walk up the valley ( admiring the view) was required.
Tips:
Didn't eat in the village, but bought groceries c/o Co-op. We found The Royal in Ross-on-Wye served good, reasonable-priced lunches with fantastic views. The forest will be stunning when the bluebells are out, anytime now. Spent a morning in Monmouth. Tiny museum has interesting collection re Admiral Nelson. A vibrant town with Waitrose, M&S, craft shops etc. Medieval bridge.
Would Recommend: Yes
28th April 2019:

Tips:
great for walking dog near by and excellent places further afield My dog loved it.
Would Recommend: Yes
23rd February 2019:

Tips:
Lots of great walks
Would Recommend: Yes
17th February 2019:

Lovely welcome pack, thank you. Cosy cottage. My suggestion to make a more comfortable stay would be to place tv on wall in bedroom, as after lots of walks, a warm bath it's nice to relax in bed...ps comfy bed too.
Tips:
So many walks in the forest close by as well as lots of dog friendly pubs. The speech house, saracesons head in Symmonds yat east, moody cow are what we would consider to be the most welcoming and good food. We enjoyed a trip to Monmouth too nice shops and friendly people.
Would Recommend: Yes
4th January 2019:

Our second stay in this lovely , warm and well equipped cottage.
Tips:
We found the Forest of Dean a great place to walk our dog , with plenty of car parks . This is also a great place for mountain biking with lots of well maintained Forest tracks.
Would Recommend: Yes
19th November 2018:

It was lovely to meet Lorraine and enjoy the cottage which she had thought about and provided "the extras"
Would Recommend: Yes
Owner Response:
I am glad you enjoyed your stay.
13th November 2018:

Would Recommend: Yes
12th November 2018:

We had a good short stay and have nothing but positive comments. Great to find a quality dog friendly cottage, good location for accessing the forest and all it has to offer.
Would Recommend: Yes
2nd November 2018:

Lorraine was so delightful to liaise with. She has a wonderful, professional manner but also comes across in such a warm way too. The homemade scones and little extras for the dog were lovely to walk in to after driving down. The cottage was just perfect for what we needed; a cosy escape for the two of us to enjoy some quality time together. Thank you for that.
Tips:
You definitely need a car to get around! Mitcheldean itself has a couple of shops and takeaways but we found if you drive for just a few minutes there are other villages/towns close by that have more amenities. We had fish and chips from the Mitcheldean chippy which were lovely! Huge portions though s if you don't want any waste get them to share. We also went to the Red Hart Inn with our dog. This is a lovely place for a cosy, pub dinner and they loved having the dog there too. We also wanted to do quite a challenging walk so we parked the car at Monmouth (there are quite a few pay and display car parks) and walked along the Offa's Dyke Path to Redbrook and then back to Monmouth via the Wye Valley Way. It was about a 10 mile walk and after this we wandered around Monmouth. The Boat Inn at Redbrook was a lovely place to stop for a pint! We also went to Simmonds Yat Rock for a gentler walk on the 2nd day. A beautiful place to see with wonderful woodland. It has been lovely to get away from busy life and the Forest of Dean was the perfect place to do that.
Would Recommend: Yes
31st October 2018:

Stayed for 4 nights. Superb location, cottage exceeded expectations. Cottage was warm and comfortable and was well equipped. Owner has finished this cottage to a high standard , with quality furniture etc . We have booked again for December. Best cottage we have stayed at , by far. Owner, Lorraine is very helpful without being intrusive. Thanks Chris, Tina and Ella the cocker spaniel
Tips:
Local butchers shop is very good .(Kevin's ) Great local walks in the Forest of Dean . Ross on wye is worth a visit
Would Recommend: Yes
22nd October 2018:

Tips:
best pub for food Weston cross inn 5 miles away and the old dairy tearoom at harts barn craft centre Monmouth road longhope
Would Recommend: Yes
1st October 2018:

what a little gem of a place its soo quiet the cottage is spotless and very well equiped , loved the extra touch of the homemade scones jam butter and cream , the dogs loved there treats , had a fab nights sleep was the perfect size for us two humans and our two lab fur babies.
Tips:
plenty of walks in the area and only a short trip to the town where there are a few shops and takeaways ,plenty of near by towns to visit and walks in the forrest , would recommened to anyone . if you go to cinderford there is a lovely chippy china house , there prawn curry is lovely also there chickencurry too , while in cinderford there is a fab little shopping town if you lookingfor a bigger town to shop try ross-on-wye . if your up for a drive out our dogs loved the beach in barri island jackson's bay , also lastly if you make your way to Go Ape Forest of Dean (Mallards Pike - Tree Top Adventure and Forest Segway) there is lovely walks a nice lake that you can walk round plenty of picnic benches and a cafe ,also there are toilets there free to use , but you have to pay for parking only £2 for 2 hours so not bad really , enjoy your stay we did x
Would Recommend: Yes
18th September 2018:

Lovely and homely. Everything you could possibly need is provided for. Homemade scones welcoming us was a really lovely treat. They were amazing. Properly has WiFi for those who need to stay connected. We were not bothered either way.
Tips:
We found 2 excellent pubs about 10/15 mins from cottage, "The Red Hart and The Farmers Boy Inn, both dog friendly, excellent food. Old Diary is in an ideal location for great walks in the area. Forest of Dean offers brilliant walks for all ages and fitness. We even saw deer and wild boar.
Would Recommend: Yes
13th September 2018:

Very clean and comfortable new cottage which had all the amenities needed for a week's stay.
Tips:
Quiet location on the edge of the town and only a few minutes by car to the Forest of Dean. An excellent base for exploring the Forest and the Wye Valley
Would Recommend: Yes
12th September 2018:

Very comfortable - little extras - fruit, flowers, tea, milk etc. all appreciated Plenty of information regarding area - dog friendly pubs and places to go. Maps were useful.
Tips:
Go to Symonds Yat (on a nice day) - spoilt for choice for forest walks - Ross on Wye is a nice town.
Would Recommend: Yes
24th July 2018:

The Old Dairy 1 had everything we required for our stay It is clean cosy quiet and very relaxing to return to after a day exploring the lovely area Would recommend it highly Thank you Lorraine we would be glad to return to The Old Dairy 1 on our next visit to Gloucestershire
Would Recommend: Yes
24th July 2018:

A loverly cottage in a beautifull part of the country.We will return and have allready recommended to friends and family
Tips:
You must have the wild boar sausages at the red hart.
Would Recommend: Yes
12th July 2018:

Another enjoyable visit
Would Recommend: Yes
25th June 2018:

Lovely accommodation, fully enclosed garden a real plus if you have a dog. Nice and quiet as the road is a dead end.
Tips:
Take a look at symonds yat rock, lydney harbour, tintern abbey.
Would Recommend: Yes
18th June 2018:

Everything about our stay was good. Very pleasantly surprised with how well the cottage was stocked. Basics such as tea, coffee, sweeteners,washing up liquid were there but also found a welcome pack of lovely fruit bowl with nice variety, fruit juice and milk in fridge too ( there was even a dog biscuit, blanket and dog towel left out for our dog). Lovely , thoughtful touch. Would definitely recommend this cottage.
Would Recommend: Yes
11th June 2018:

This was the most perfect cottage we have ever rented.
Tips:
A list of places to eat is provided, a must is the Bakery which is open Wed to Sun. Your own car is essential.
Would Recommend: Yes
20th May 2018:

Ideal cottage in ideal setting for a couple with a little dog, impressed that even the dog had a welcome pack as well as the humans. a brilliant easy to use cottage with level parking.
Tips:
We used quite a few pubs for food drinks from the list in the cottage they were all excellent with the exception of the Wye Knot Inn Symonds Yat West, we were suspicious when we were the only people there for Sunday lunch and so it proved as the meal was very underwhelming.
Would Recommend: Yes
19th May 2018:

Peaceful location with occasional passing traffic. Cottage very comfortable with all amenities.
Tips:
Lovely walks from cottage into woods. Red Hart serves lovely meals and welcomes dogs. Also Weston Cross at Weston under Penyard. Tintern Abbey a must see. Beautiful setting in Wye Valley.
Would Recommend: Yes
24th April 2018:

We loved this cottage - it was so well done. The owners have really put a lot of time and effort into it - we very much appreciated the little extras - flowers, welcome card, treats for the dogs, fruit, tea etc. Really did make us feel welcome. The cottage is an excellent base for exploring the area. It has a lovely private patio which was enclosed and safely contained our two lively springer spaniels.
Tips:
We loved the sculpture trail which was a 4.5 mile walk - great for the dogs as well! Buy a map though or you might miss some. Dean Heritage Centre was also good for breakfast and the centre itself was fascinating - good place to head to first to give you a flavour of the place - lovely walk round the pond just across the road from it.
Would Recommend: Yes
7th April 2018:

Enjoyed our weeks stay.
Tips:
A must is to go to The Craft Barn for breakfast, lunch or afternoon tea. Well worth a visit. We left leaflet in box of details
Would Recommend: Yes
31st March 2018:

Lovely cottage, more then enough room for 2. Very quiet location Perfect for us. Dogs welcome in the cottage which is great. In a great area for venturing out. Great walks. Looking forward to returning to explore some more.
Would Recommend: Yes
22nd March 2018:

Well presented and equipped cottage in a pleasant location.
Would Recommend: Yes
20th March 2018:

I have visited three times a year for at least the last ten years and have always found the facilities of the highest standard.
Tips:
An excellent place if you are walkers
Would Recommend: Yes
29th July 2017:

Would Recommend: Yes
8th July 2017:

lovely well equipped cottage, great locality for walking ,very quiet,private area to sit outside a welcome pack was left for us fresh fruit, wine,juice,milk, was a lovely touch and also very good wifi we had a lovely week will return the best cottage in the area yet
Tips:
Red Lion towards Westbury On Severn great food cannop ponds,so many places to go and see also some nice welsh border towns not far away plenty of information in the cottage books
Would Recommend: Yes
17th May 2017:

Everything had been provided to make it a very enjoyable stay.
Tips:
There is plenty of information in the cottage about things to see and where to eat out.
Would Recommend: Yes
11th September 2016:

Great location in terms of proximity to Mitcheldean and the Forest but the photos and description suggested the cottage was isolated on a lane, surrounded by woods, which is not the case. We actually experienced more traffic noise and had closer neighbours than at home. Otherwise a very clean, well appointed holiday home and dog friendly too, which was the reason we chose to visit.
Tips:
Harts Barn Craft Centre just outside Mitcheldean, very welcoming, and reasonably priced goods. Also dog friendly, even in the cafe. The Red Hart, Blaisdon, lovely lunch, also dog friendly.
Would Recommend: Yes
29th August 2016:

Lovely cottage with excellent facilities
Would Recommend: Yes
22nd July 2016:

This was a lovely little cottage in an excellent location. It was secluded but close enough to everything we needed. The house was spotless when we arrived and everything inside is of a high quality. We had a great time and would definitely stay again.
Tips:
Symonds Yat is only about 20 minutes from the cottage and has the best views over the Wye Valley. Tintern has lovely walks along the river and a beautiful abbey. We also went to Wales for the day where we visited Raglan Castle (dogs are welcome on leads) and climbed the Sugar Loaf mountain in the Brecon Beacons.
Would Recommend: Yes
27th June 2016:

We enjoyed a lovely relaxing stay at The Old Dairy. The owner, Lorraine, is delightful and happy to help out with any queries or concerns. The environment is beautiful, with easy access to endless walks, delicious pub food, canoeing and just general relaxing.
Tips:
There is an extensive list of places to go and things to do, located in The Old Dairy, carefully compiled by the owner. It's impossible to be at a loss of ideas!
Would Recommend: Yes
1st June 2016:

Very comfortable cottage in pleasant rural location with lots to see nearby. Well equipped and with lots of helpful info. Particularly good for dogs.
Tips:
The Wye Valley is beautiful - especially the view from Symonds Yat Rock and the walk up Coppett's Hill from Goodrich. Red Hart at Blaisdon and The Ship at Newnham both very good for meals.
Would Recommend: Yes
24th May 2016:

Ideal for dog friendly holiday very comfortable and well appointed. The outside space is okay but not very private or great views.
Tips:
The red hart at Blaisdon is good. There are no good pubs or restaurants within reasonable walking distance from the cottage. Lots of great walks both from the cottage and further afield.
Would Recommend: Yes
1st March 2016:

Throughly enjoyed our stay with you! Beautiful lodge, was perfect for my boyfriend and I. Surrounded by lovely walks, will most definitely return.
Tips:
Provide a more detailed information booklet, places to walk, eat etc
Would Recommend: Yes
.