Watchmaker's Cottage
Daffaluke Lane Glewstone
Tel: 01989 770369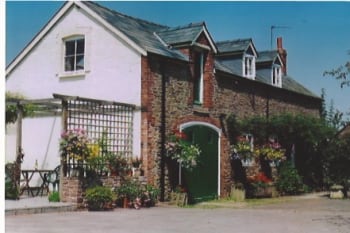 Our 5 STAR cottage offers Free WI-FI, 2 Bedrooms & 2 Bathrooms. The bedrooms include a 4 poster King Size bed, and the second bedroom can be made up as a double or a twin bedded room. Both bedrooms have their own bathroom with bath & power shower over, wash basin and toilet. Downstairs there is a fully fitted kitchen with dining area and a sitting room with open fire. Linen, towels, electricity and fuel for the fire are all included. The cottage looks over a walled kitchen garden and grass fields to fruit orchards beyond and is in a very peaceful location, but with easy access to the M50 & A40 dual carriageway, Ross-on-Wye and Monmouth.
Availability
There are no rooms available at Watchmaker's Cottage
for these dates.
Please try other dates or select a
different property
.
cottages
Max:
Our 5 STAR cottage offers 2 bedrooms and 2 bathrooms & is situated in a peace... more >
Our 5 STAR cottage offers 2 bedrooms and 2 bathrooms & is situated in a peaceful location within the beautiful grounds of a country house with private parking, 2 acres of terraced gardens including a Rose Garden, Victorian Walled Kitchen Garden and herbaceous borders. It is surrounded by meadows and orchards with views towards the Wye Valley & Forest of Dean.Room Facilities:
Patio/garden
Free Wi-Fi
Bath/Shower
Central Heating
Ceramic Hob
Coffee Maker
Dining Area
DVD Player
Electric Shaver Point
Ensuite Bath/Shower Room In Unit
Four Poster Bed
Fridge/Freezer
Hairdryer
Ironing Facilities
Kitchen
Linen & Towels Supplied
Log Fire
Microwave
Private Car Space
Radio
Television
Washing Machine
Cooker
Living Room
Tea/Coffee
Facilities
Patio with easy chairs & table
free Wi-Fi
cot/child bed available
stairgate available
BBQ Facilities
Garden For Residents' Use
Shop (nearby)
Wi-Fi
Policies
Check In: Between 15:00 and 18:30
Check Out: Between 9:00 and 10:00
Wi-fi: Wireless internet is available and is free of charge.
Smoking: There is no smoking permitted anywhere within the property.
Parking: Parking for all guests is available on site and is free of charge.


Children: Children of all ages are welcome.
Pets: Pets are not allowed.
Groups: All groups are accepted.
Average
4.8
out of 5
37 reviews
100% recommend
Reviews
24th August 2020:

Nice cozy cottage, clean and well equipped. The weather was horrid and cold so we made use of the open log fire that was lovely.
Tips:
The cottage is down a very narrow country lane and obviously no street lighting so quite a challenge late at night.
Would Recommend: Yes
9th August 2020:

Perfect
Tips:
Enjoy
Would Recommend: Yes
12th July 2020:

Jenny & Max were friendly and helpful and we loved the peaceful location and idyllic garden. The cottage was cosy and welcoming with very comfortable beds and powerful showers.
Tips:
Wonderful walks and scenery with lots of wildlife around especially when you get along the Wye.
Would Recommend: Yes
27th September 2019:

Would Recommend: Yes
7th September 2019:

dear Jenny, we enjoyed our three weeks in watchmakers cottage enormously. In the first place we had a very good contact with you even before we arrived! Thanks very much for that. When we came the first day your and Max's reception felt very warm and when we entered the cottage there was a lovely cake baked by you. We have had three weeks of very good weather. That's why we spent a lot of our time outside, which was very nice, also thanks to the beautiful garden which surrounded the cottage and your house as well. During the three weeks you really showed a warm interest in both Els and myself and in our freinds Ronald and Anneleen. Even after three weeks we felt a bit homesick when we left... Thank you very very much again. We can recommend the cottage to everyone!! Thanks and love from all four of us, Hans Romeyn, Heiloo, Netherlands ps when you ever come over to our country don't hesistate to come along at our house. You will be very very welcome!!
Tips:
Just around the cottage it already very nice. Both the cottage and the house of Max and Jenny have a more than gordious garden which one can use!! WE did quiet a lot of walking in the direct surrounings of Glewstone, eg in and around Ross on Wye, been to the brecon beacons in Wales, to Sugar Loaf Mountain near Abergavenny, been to concerts in Cardiff (last night of the Welsh Proms, to Folk on the Lawn in Tintern, music festival in Monmouth, been to the Savoie Theatre in Monmouth, been to the Rockfield Studios in Monmouth etc), we also visited nice cities like Gloucester, Hereford and as said Cardiff (just less than one hour drive). There is too much to mention, but luckely Jenny and Max have an awfull lot of leaflets in the cottage!!.
Would Recommend: Yes
16th August 2019:

This is our third visit to Watchmaker's Cottage. A fantastic welcome as always from Jenny and Max with a wonderful surprise of homemade scones with jam and cream waiting for us after a long journey. The cottage has everything you need and more besides. Set on a stunning Manor House Estate with beautiful fields and vegetable gardens. An absolute delight!
Tips:
There are many thing to do in The Forest of Dean. We have visited several times. Puzzlewood is excellent for walking around, searching for golden coins and finding hidden items. It's also good for getting lost or walking in circles! Perrygrove is a fantastic steam train ride through the forest with hidden play areas and picnic stations. Well worth the visit. There is Croft Castle about an hour away. Stunning! Local eateries are fantastic - we thoroughly enjoyed sampling the food and drink at The White Lion and The Red Lion. Great atmosphere and reasonably priced.
Would Recommend: Yes
14th April 2019:

Lovely warm welcome from Max and Jenny, who were very concerned that we had everything we needed but left us to enjoy their beautiful gardens and lovely cottage.
Tips:
The location of the cottage is very peaceful but close to lots of beauty spots and walks. It's an easy drive to Abergavenney and the Brecon Beacons too. We'd recommend the Red Lion and The Loughpool as local pubs that serve excellent food and the International Centre for Birds of Prey near Newent as a great day out for all ages.
Would Recommend: Yes
19th October 2018:

The house was very comfortable and had everything we needed. Max and Jenni made us very welcome, were there if needed but totally respected our privacy.
Tips:
The old court house in Monmouth is a fascinating trip on a rainy day and a good museum there as well, Symonds Yat stunning even in the rain with calorie laden hot chocolate from the kiosk to follow, Goodrich Castle is amazing, as are the views from the Malvern Hills (The hotel next to the car park at British Camp does good food) excellent walks in Chase Woods near Ross on Wye and the best Italian meal ever in Avellino's in Ross on Wye.
Would Recommend: Yes
Owner Response:
Thank you very much for this very positive review, and for taking the time to do it. It's so rewarding to know that you have enjoyed your stay this much
12th September 2018:

Would Recommend: Yes
9th August 2018:

Would Recommend: Yes
2nd August 2018:

We loved the cottages and the area. The beds are cosy and clean. It was the 10nd year we came over for our holiday. And we will back for another holidays. De kids love to play in de garden. De sheeps in the fields are great.
Tips:
The red lion pub great food Seven seas in ross in wye great fish and chips and burgers. Hereford market and shop are nice Glouchester is great for shopping Abergavanny has a great market and butcher. Butterfly and amazing maze are great for the kids. Simons yat is really nice for walking. Carboots in Abergavanny, ledbury and a small town near hereford. Merry hill in dudley is a fantastic shoppingmall. And last but not least the gardens of david austin roses that fantastic.
Would Recommend: Yes
Owner Response:
Thank you for this very kind review. We have indeed been welcoming you for 10 years and your parents for even longer and it is a great pleasure to welcome you back and see the children growing up. So pleased that you enjoy coming so much.
12th July 2018:

WE wanted to explore castles and gardens in the Wye Valley and this cottage was ideal. We were met with scones and cream-which was indicative of the care that had been out into the cottage. The cottage was set in the gardens of the owners homes which we were welcome to also enjoy. Having two bathrooms was great.
Tips:
As you can see we had planned to do do two different themes. castles for me and gardens for the women! It was a great base
Would Recommend: Yes
7th June 2018:

Wonderful stay in a lovely location, Jenny and Max were the perfect hosts. Thank you for making our stay so stress free and some helpful tips for the local area. Thank you
Tips:
Eastnor castle great for kids
Would Recommend: Yes
29th April 2018:

Lovely welcome from Max and Jenny. Super cream tea what a treat after a long drive.
Tips:
We went out for lunches. Best lunch Bear at Crickhowell. Symonds Yat wonderful views of county in its best Spring clothes! Tintern so beautiful and the steep country lanes above it. Lanthonty Valley,very narrow road up to Hay on Wye with the ruined Abbey half way up. Hay on Wye very sleepy due to a very wet day.
Would Recommend: Yes
5th March 2018:

great stay ,big thank you to max and jenny what would we have done without you
Would Recommend: Yes
27th February 2018:

Lovely hosts ,and quaint cottage,well loved, but for families use to central heating, rather than storage heating it takes some getting use to.Lovely gardens , to use and admire. Lots of beautiful places to visit,Towns also.
Would Recommend: Yes
26th October 2017:

Great location, pretty cottage and welcoming hosts. Thoroughly enjoyed our stay. I won't spoil the surprise by saying more.
Tips:
Avellino's restaurant and the Mill Race would be our evening meal tips. Eleganza cafe in Ross on Wye do a lovely salad for lunch. The Blorenge walk in the Brecon beacons is stunning, the family cycle route in the forest of dean is a good all ability trail. The more adventurous in our party loved the blue trail.
Would Recommend: Yes
10th October 2017:

Very comfortable, thank you for the delicious cream tea. We had a great time. Perhaps a little more light to read by in the sitting room would be helpful and better lighting in the kitchen in the evening to give a bit of atmosphere, otherwise we appreciated all the carefully thought out extras. Thank you
Tips:
The Red Lion was great but HUGE portions and the service was good too
Would Recommend: Yes
17th September 2017:

Would Recommend: Yes
12th September 2017:

The cottage was in a really peaceful setting and well-supplied with essentials to make our stay at Watchmaker's Cottage comfortable and enjoyable. Jenny and Max were always friendly and made us feel welcome. We were especially impressed with the home-made cream tea set out for us on our arrival.
Would Recommend: Yes
31st August 2017:

Very friendly and welcoming, kind gesture from Jenny of cream tea and delicious plums on arrival. Obviously well loved cottage as well maintained, clean and cosy.
Tips:
Local pub Red Lion recommend for evening meal. Great location for mountain bike trails in the Forest of Dean, about 20 mins drive away. Well worth visit to see Ss Great Britain in Bristol, Tintern Abbey, Gloucester Cathedral and pretty village of Symonds Yat.
Would Recommend: Yes
22nd July 2017:

Would Recommend: Yes
14th July 2017:

We were impressed by the warm welcome we received.Our hosts made it clear that they would help with any request
Tips:
There are good pubs and restaurants within a few minutes drive,and for activities I would recommend the wye dean tourist brochure.
Would Recommend: Yes
10th July 2017:

A beautiful well presented Cottage and grounds. The owners made us feel very welcome throughout our stay, with an added offer to freely use the surrounding gardens.
Tips:
The nearby Forest of Dean area is well worth a few visits, with great varied walking trails. Symonds Yat rock, commands great views of the Wye valley. The nearby Red Lion pub is a great place for good food, and friendly service, all at reasonable cost.
Would Recommend: Yes
3rd July 2017:

Tips:
See the excellent (hidden) gardens nearby (1 hour) and the beautiful river Wye. Don't forget the Inn's Red Lion and especially Slough Pool in Sellack.
Would Recommend: Yes
18th May 2017:

GREAT BASE IN A VERY QUIET LOCATION. HAD ALL THE FACILITIES NEEDED FOR A GREAT WEEK! LOVELY SCONES WERE IN THE KITCHEN ON OUR ARRIVAL,MANY THANKS TO JENNY,THEY WERE DELICIOUS!
Tips:
WE HAD 3 GREAT MEALS AT THE RED LION,WINTERS CROSS, PETERSTOWE. WE DID NOT GO BACK TO THE COTTAGE HUNGRY!! IN ROSS,THERE IS A GREAT ITALIAN RESTAURANT CALLED AVELLINO,EXCELLENT FOOD,SERVICE AND WINE!!
Would Recommend: Yes
8th May 2017:

Tips:
The main problem is the lack of heat in the premises during the day. When we stayed the weather was cool and a lack of internal heat was highlighted by ineffectual storage heaters.
Would Recommend: Yes
17th April 2017:

Tips:
Great meal at the Red Lion in Peterstow. Lovely drive to Hay on Wye through the Golden Valley & Black Mountains.
Would Recommend: Yes
4th April 2017:

Jenny was there to welcome us. Tea cups and bara brith were laid out on the table. A very thoughtful and kind gesture. Every kitchen aid you wanted was supplied. We enjoyed the open fire in the living room. The bed was very comfortable and there were nice views from the bedroom windows. A dongle was provided, much appreciated, for our stay and we were offered maps and information on the area. Jenny and Max are unobtrusive hosts. They are there if you need them.
Tips:
The location is convenient for Ross on Wye and Monmouth and popular walking destinations, such as Puzzlewood and Clearwood Caves. There are two local pubs including The Yew Tree which has a great atmosphere, to which is attached a shop selling local varieties of quality cider.
Would Recommend: Yes
16th March 2017:

Fabulous place, hosts were so friendly and helpful and nothing was too much trouble. We spent a month here after moving from Spain, whilst house hunting. It was the best holiday cottage we have ever stayed in and in fact although we are now in our new home, we were sad to leave watchmaker's cottage. Everything in the cottage was of the highest quality and obviously a lot of care has gone into furnishing and equipping it. We were even welcomed by our hosts with a lovely log fire lit ready for our first day. We would give it far more than 10 out of 10!!
Tips:
Book well in advance as it is so popular. Plenty of leaflets, maps etc for ideas of things to do, and the hosts live in the big house next door so you can ask them anything. They were nearly always available if we needed anything. Only advice would be stairs are a bit steep because it is a traditional old cottage, so not suitable if you have mobility issues. Also you definitely need a car as it is quite remote. But it is a lovely location to relax and beautiful countryside.
Would Recommend: Yes
1st January 2017:

Jenny and Max are fabulous hosts and super people. Extremely helpful and really made our stay a delight.
Tips:
Though the location is in the country you are only 5 mins from Ross, 15 mins to Monmouth and have 2 great pubs just minuets away. This part of the world is a real foodie area with many excellent restaurants, including Michelin*, fabulous butchers Cornwalls in Ross, plus good cheese shops. Then of course there are all castles and others historical spots!
Would Recommend: Yes
18th September 2016:

Beautifully presented and extremely comfortable. Everything is immaculate, and superbly equipped. Great rural location - not isolated but peaceful. The gardens are outstanding
Tips:
Harewood End Inn -copious quality pub food:-) Visit Taurus Crafts, Monmouth, Goodrich Castle, Hereford, Ross on Wye, Ledbury, if you have any free time after all this-put your feet up and enjoy !
Would Recommend: Yes
3rd September 2016:

All excellent - can be recommended.
Would Recommend: Yes
21st August 2016:

Very helpful and friendly.
Would Recommend: Yes
5th June 2016:

Wonderful well equipped cottage in an idyllic location. Owners Jenny & Max are delightful and informative, plus allow us the pleasure of free access to their delightful gardens. Which we did as much as possible in our weeks stay as the weather was great (luckily)
Tips:
We enjoyed the food and setting of the Saracens Head at Symonds Yat East. On another occasion had an evening walk from Symonds Yat West along river to Biblins Bridge crossing over for retun walk to Symonds Yat West then travelled back over the river via the ferry to complete our walk. Forest of Dean great for MTB and family cycling with great facilities & cafe Also we ventured to beyond Abbegavenny and cycled part of the Brecon/Monmouth canal....stunningly beautiful
Would Recommend: Yes
22nd May 2016:

Lovely place, comfortable and clean, peaceful and quiet. Everything you need for a good holiday.
Tips:
Been in the area before so just generally enjoyed going at our own pace - slow. Like historical places and particularly enjoyed our visit to Chepstow.
Would Recommend: Yes
21st January 2016:

Over the years my wife and I have stayed at quite a few self catering cottages, many of which are adjoined to or on the grounds of the owners. However this is the first one that I'd really like to return to. The others were good but this one is great. Totally comfortable and totally relaxing. The owners are the friendly, accommodating and genuine sort that are so easy to get on with. The little extras like sending our son's matchbox cars to us through the post when we thought we had lost them for good, speaks volumes. The deceptively spacious cottage is appropriately furnished and the kitchen includes everything you could need - even cookery books! The main bed is so nice it's difficult to get out of. The baths deep enough to really enjoy a good soak and the gardens are beautiful to wander through.
Tips:
Ask Jenny and Max, the owners, for they know all of where to go and what to see. Mind you we didn't do too much adventuring as we enjoyed the cottage so much and it was Christmas.
Would Recommend: Yes
.