Wye Valley Forest Retreat

Tel: 07802242381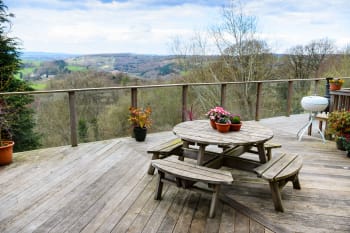 Perched high in the Royal Forest of Dean with breath-taking views across the Wye Valley & Brecon Beacons, an intimate and delightful Cottage for up to 6 people and their dogs. Most rooms open to a huge decking with integrated Hot Tub & Sauna! Built in the 1850's and retaining much of it's Cottage charm, The Reddings has been extended on 5 levels with most rooms open to the decking for you to enjoy the hot tub or for al fresco dining whilst you enjoy the amazing views. Throughout, you will find comfortable, quality furnishings & décor reflecting the rustic nature of the Cottage and it's surroundings; you will also find a good range of facilities and extra touches - all designed to make you feel welcome and at home. Three bedrooms, the first with a kingsize bed and en-suite shower & toilet; the 2nd bedroom has a double bed; the 3rd room has 'adult size' bunk beds. Toiletries, towels & bed linen provided.
Availability
There are no rooms available at Wye Valley Forest Retreat
for these dates.
Please try other dates or select a
different property
.
cottages
Facilities
Large decking, Sauna, Hot Tub, BBQ & table for al fresco dining
Private rustic garden which illuminates after dark
Log fire, chiminea & supply of logs
Laundry & ironing facilities + washing liquid
Traditional kitchen, fridge-freezer & microwave
Shabby chic dining room, library/reading room & two comfortable lounges
3 flatscreen TVs, surround sound, Bluetooth speakers, 'Firestick', DVD & movies
Walkers welcome; cycle & canoe hire nearby
Pub with traditional food a few minutes walk; more pubs, cafes & restaurants nearby
'Welcome pack' of fruit juice, cookies, coffee, tea & milk (treats and towels for dogs)
Policies
Check In: Between 16:00 and 18:00
Check Out: Between 11:00 and 12:00
Wi-fi: Wireless internet is available and is free of charge.
Smoking: There is no smoking permitted anywhere within the property.
Parking: Parking for all guests is available on site and is free of charge.


Children: Children of all ages are welcome.
Pets: Pets are allowed and can stay free of charge.
Groups: All groups are accepted.
Average
5.0
out of 5
28 reviews
100% recommend
Reviews
2nd August 2019:

We have just had a four night stay at this beautiful cottage after our wedding locally, a minimoon break and we cannot rate this accommodation highly enough. We had a wonderful and relaxing stay, which is exactly what we wanted after our wedding, and have booked to return next year for our first anniversary. Jayne and Phil are so helpful and are happy to help in any way. We would highly recommend staying here to anyone. Extremely clean and well equipped, we loved the hot tub and panoramic views, we came home very relaxed. It is absolutely delightful. It is also pet friendly if that applies.
Tips:
Whilst here we visited Puzzlewood, Goodrich Castle, Monmouth and Symonds Yat all of which we would highly recommend. There are also some lovely walks.
Would Recommend: Yes
4th June 2019:

We have just enjoyed a four-night break at this lovely place in the Wye Valley. The accommodation is comfortable and it's a real home from home. We felt comfortable from the moment we entered through the front door. I particularly like the feel of the study on the lower level, it would certainly inspire creativity to sit in that tranquil space. And the views are spectacular, you could never tire of watching the birds, squirrels and the movement in the trees all around. Clean bed linen and towels, a well-equipped kitchen, relaxed surroundings … this is no ordinary anonymous holiday let, and anyone staying here will not be disappointed. Our dog Shadow enjoyed his stay too – he did not come upstairs once and happily settled on the decking to admire the views with us. The hot tub and sauna are luxurious additions, both of which most enjoyable. The welcome guide is comprehensive and there is no shortage of information about the local area to ensure you get the best out of your stay. Highly recommended!
Would Recommend: Yes
3rd May 2019:

Jayne was very helpful from initial questions when booking right through until departing the cottage. Thorough details were provided to us about the property's facilities as well as a detailed list of activities/ restaurants in the area. Honestly one of our most enjoyable mini breaks - made even better that we could bring our two guinea pigs along! The location and views were perfect - watching the sunset from the hot tub/taking in the local bird life. The cottage's facilities were fantastic at a reasonable price - hot tub/sauna/picnic area/smart tv. An ideal place to get away from the hustle and bustle of city life.... we couldn't fault our trip (except we should have booked for longer!)
Tips:
We stayed for 3 nights but there is so much to do in the area we didn't get to everything we would have liked! Easily a few days could be spent recharging your batteries around the cottage alone! There are lots of restaurants with lovely fresh produce and plenty of award winning butchers if you fancy cooking in. With a variety of river walks,forest trails/hikes in the area there is always something to keep you entertained!
Would Recommend: Yes
1st May 2019:

Beautiful place to stay with stunning views. The owners have thought of everything to ensure guests enjoy a comfortable relaxing time away. There are so many places near by to visit, but if you just want to chill, then this is the place to stay. We loved it.
Would Recommend: Yes
8th April 2019:

Lovely cottage with amazing views and everything you need for a lovely stay.
Tips:
Amazing butchers in Coleford and The Forest Bakery was a really good find.
Would Recommend: Yes
18th March 2019:

Fabulous cottage,lovely views,lots of added extras, we had a brilliant time, can't wait to go back,communication with host excellent. So relaxing watching the birds from the hot tub. Thank you Jayne, for a lovely weekend. Xxx
Tips:
7
Would Recommend: Yes
5th March 2019:

Would Recommend: Yes
5th February 2019:

What an amazing place, the views spectacular, the walks breathtaking We truly relaxed and recharged our batteries. The house itself felt very welcoming and homely, we just felt so comfortable when we stepped in we didn't want to leave. Roll on next year!
Would Recommend: Yes
15th January 2019:

A beautiful, quiet gem of a retreat. Well equipped with information and everything you could possible need. Lots of different areas on different levels. Each room had its own character, which was tastefully done and in line with the cottage. Good contact and information from Jayne.
Would Recommend: Yes
27th November 2018:

Very cosy and welcoming and the added bonus of hot tub and sauna. Beautiful location and stunning views, we didn't want to leave.
Tips:
Lots of places to walk and a visit to Symonds Yat
Would Recommend: Yes
16th November 2018:

WOW what an amazing cottage cannot speak highly enough of this fantastic cottage, cannot fault it .
Would Recommend: Yes
7th October 2018:

Views are breathtaking , just delightful. Everything we could need and more. One of the best weekends ever
Tips:
Symonds Yat and Go Ape. We didn't go to the pub the cottage was just too amazing we wanted to stay in
Would Recommend: Yes
13th September 2018:

Absolutely fantastic location. Cottage was as described and Jayne & Phill couldn't do enough for us. Heartily recommend.
Tips:
Sculpture trail a nice walk. Also enjoyed Monmouth and Symonds Yat
Would Recommend: Yes
30th August 2018:

Absolutely brilliant. A pleasant stay and what a view. Would definitely be back at some point.
Would Recommend: Yes
24th June 2018:

Absolutely stunning views and a exceptionally well equipped cottage, we had everything we needed to make it a home from home. The hot tub and sauna were great fun and made it a special occasion, especially given the view!
Tips:
Sadly we missed Puzzlewood due to filming but that looked good. We went to the Dean Heritage Centre which had a lovely Gruffalo trail and Beechenhurst forest. Goodrich castle and the Hostelerie for a meal were also nice, as was Symonds Yat rock. I arranged facials at the cottage one morning which we all thought were great, it worked really well having them in the study.
Would Recommend: Yes
9th May 2018:

Fantastic from the time of booking until we left to go home. We will definitely be back!
Would Recommend: Yes
27th April 2018:

Fantastic home from home with lots of extras and personal touch highly recommend
Would Recommend: Yes
10th April 2018:

Beautiful peaceful retreat fantastic views, excellent facilities. We will definitely book again
Would Recommend: Yes
26th January 2018:

Lovely retreat, run by a lovely couple. Has all the facilities you need and was a nice surprise to have some milk / orange juices stocked up in the fridge on our arrival (plus a welcome cake). We all loved our stay and highly recommend to anyone looking for a private / quiet break. Thank you Spencer & Aimee
Would Recommend: Yes
23rd December 2017:

Not for anyone with mobility issues. Warm good hearing system Great communication from owners Tip top property
Tips:
Just loads to do We enjoyed dean forest railway, the snowman at Cheltenham town hall and boat ride with Santa at Gloucester docks!
Would Recommend: Yes
5th July 2017:

Lovely house hot tub and sauna, very comfortable and well equipped.
Tips:
Large supermarkets in Ross on Wye for shopping, lots of local pubs in area.
Would Recommend: Yes
25th May 2017:

A beautiful, well equipped, large house in an idyllic location. The views are absolutely stunning. The owners were very helpful and we felt we were staying as guests in their home as opposed to just renting a holiday property.
Tips:
We would recommend The Hostelrie inn at Goodrich (dogs welcome). Good cycling and walking nearby in The Forest of Dean.
Would Recommend: Yes
23rd April 2017:

Just  returned from a wonderful  4 night break with my family and our dog. The cottage is fantastic, cozy and has everything you need for a short stay. The view is amazing, its hard to stop yourself sitting outside to relax or enjoy the view from the hot tub! There is plenty of space to relax, the bedrooms are very comfortable and has a well equipped kitchen. For extra relaxation there is also a sauna. Phill and Jayne are a lovely couple and keep in touch. I would definitely recommend a stay here, great location for exploring the Forest of Dean.
Tips:
Canoeing down the River Wye is lovely. A visit to Mallards Pike Lake is lovely, nice walk and a great place for a picnic. The Sculpture trail is great to visit.
Would Recommend: Yes
15th February 2017:

Absolutely beautiful, stayed here for my boyfriends birthday. There were 6 of us and we all loved it! The house is beautiful- the photos are lovely and even they don't do it justice, you have to see for yourself - and the views are phenomenal. The decking area is very large! Would be even better in the summer. The sauna WOW, didnt want to get out. All in all it was beautiful. Will definitely be returning! Jayne and Phil were amazing too, quick at emailing back and answering any questions i had! Jayne also texted me during the weekend to check we were having a nice time. Very nice people.
Would Recommend: Yes
7th February 2017:

Wow! That is the only word I can think of to summarise our stay. Beautiful home, amazing views, great location. Everything you need is provided. Jayne and Phill communicated regularly and they provided plenty of information for our stay. I will most definitely book again and will recommend to friends without hesitation.
Tips:
If walking to the local pubs in the evening then take torches. The roads from the cottage have no paths or lighting so can be very dangerous but with common sense and care there should be no problems.
Would Recommend: Yes
26th October 2016:

We loved our stay here and would recommend a stay to others. The setting is beautiful, even in October. We would love to return.
Tips:
There are lots of lovely walks around the forest.
Would Recommend: Yes
8th October 2016:

A beautiful lodge set in lovely grounds. We were made to feel most welcome with tea, coffee, juice and a delicious cake. Our dogs loved the grounds and immediately felt at home. We would definitely love to stay again on our next visit to the forest.
Tips:
Very central position for great walks. Close to Ross on Wye for shopping and canoeing and Symonds Yat for incredible views and the Falcons. The hot tub and sauna await you after a day's walking around the beautiful forest.
Would Recommend: Yes
20th June 2016:

Just returned from a long weekend stay at this property and I can only sing its praises. The accommodation is beautiful and homely, excellent standard of facilities including the sauna and hot tub which a welcome sight after walking along Symonds Yat during the day. The accommodation is exactly as shown in the photos (if not better!). The owners were great - accessible easily by telephone if needed, and provided a really helpful welcome info pack. The property has fantastic views over the valley and has a great secure garden for children. You won't be disappointed. We will certainly be returning.
Tips:
Brilliantly located for Ross on Wye and Symonds Yat. An outdoor pursuits centre is about 10mins down the road catering for water and climbing sports.
Would Recommend: Yes
.