The Lodge Rooms
The Dome Garden
Tel: 07974685818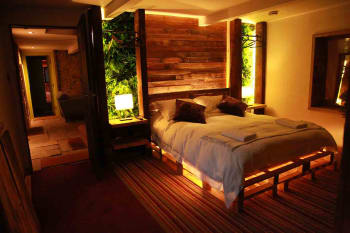 2 stylish, modern & characterful, B&B rooms inside an eco-conscious, 200 year old, Forest Lodge built of stone and surrounded by trees, right in the heart of the ancient Royal Forest of Dean. Originally the home of the Forest wardens, or Verderers, who used to administer the forest, the building has now been converted into an eco sensitive B&B with 2 beautiful en-suite rooms decorated along the theme of recycling. There is a fire to sit by and, in the busy sessions, a residents-only restaurant and bar. The Lodge Rooms, and The Lodge, itself are part of a wider tourist destination called the Dome Garden, a compact, environmentally sensitive, eco-park with a dozen, space-age, geodesic domes. It's a luxury camping village, with a blend of outdoor life and luxury facilities. There's a lot of fire making and cooking and people are generally very busy. Not so in the Lodge rooms! These are an oasis of calm set back from the body of the busy camp.
Facilities
Breakfast Room
Children Welcome
Children's Playground
Disabled Access
Disabled Parking
Early Breakfast By Arrangement
Evening Meal By Arrangement
Fax/Email Facilities
Garden For Residents' Use
Log Fire
Packed Lunch By Arrangement
Policies
Check In: Between 16:00 and 21:30
Check Out: Between 8:00 and 10:30
Wi-fi: Wireless internet is available and is free of charge.
Smoking: There is no smoking permitted anywhere within the property.
Parking: Parking for all guests is available on site and is free of charge.


Children: Children of all ages are welcome.
Pets: Pets are not allowed.
Groups: Stag and hen groups are allowed.
Average
4.8
out of 5
38 reviews
100% recommend
Reviews
11th November 2019:

I just wanted to say we had the best time, we stayed in the wood store, we've never stayed in a room like this, it was beautiful! We love it so much we are going to redecorate our room back home very similar! We had breakfast this morning cooked to perfection. Honestly leave and John were so welcoming and lovely, they played a huge part in our fantastic experience! We hope to come back soon. Many Thanks Kasey and Angel
Tips:
The puzzle wood is an amazing experience which you will not get anywhere else. We also headed into Gloucester for some shopping. Raglan Castle is also a short journey away and is a great site. However, we did find that Tintern abbey was even more incredible and the drive to it is just as extraordinary.
Would Recommend: Yes
10th November 2019:

Very 'quirky', but great.
Would Recommend: Yes
21st October 2019:

What a fantastic place ! Our expectations were exceeded. The coal room is quirky and comfortable. The Lodge itself is a great design and the breakfast area feels like you are in the forest. Paul was a great host and really looked after us well. As veggies he catered for all of our needs and was a valuable source of information about the area.
Tips:
On Paul's recommendation we had dinner at The George in St Briavels which was a great choice. The sculpture trail at Beachenhurst gives a great opportunity to bath in the forest without. The tourist info in Coleford is also very helpful and Coleford itself is worth exploring. Pick your time to visit as i can imagine it gets very busy at peak season. For us, from Cardiff, its a great place to get away to out of season.
Would Recommend: Yes
21st October 2019:

Great little escape from the city. The rooms have all the basic amenities you should need, the hosts were great, friendly and happy to have a chat. We had the pizza night here and was for sure worth the money. Will definitely come back and recommend. Thank you.
Would Recommend: Yes
6th October 2019:

This place is awesome. Hidden away off the main road and actually really easy to get to. The bathroom is amazing and we can't thank our host enough for providing some candles, tea, coffee etc.
Tips:
There are plenty of places to eat and all within about 10 minutes of the place and near enough just a straight road so easy to get to. There is a lovely tapas restaurant in coleford which was cheap and very good. We spent a whole day in puzzle wood exploring and taking lots of photos (take your wellies/ walking shoes). We also spent a day in Monmouth, there's an amazing local deli with a little cafe and they make things up from the produce they sell like a cheese board.
Would Recommend: Yes
14th June 2019:

Would Recommend: Yes
20th March 2019:

A super friendly welcome, a really beauitful comfy room with the most amazing bathroom in. The location is amazing, a short drive to the wye Valley; or even better, Leave your car in the car park, put on some walking boots and explorer the local natural beauty surrounding this amazing accommodation :) thank you
Would Recommend: Yes
18th February 2019:

Great staff and location
Tips:
Plenty to do in the forest of dean trails or cycling MTB :) great for kids
Would Recommend: Yes
5th February 2019:

Such a lovely peaceful location and the room was extremely comfortable. Friendly staff
Would Recommend: Yes
30th October 2018:

Amazing place which is not as it appears on first look from the outside. The adventure area and firepit will be great in summer and my son has already insisted we return. Rooms and eating area done in a very unique and refreshing style. The staff exceptionally warm and friendly and enhanced what was already a very positive experience. Recommended for people with young children especially though just as good for couples. My son was very excited about being allowed to feed the chickens as well as trying to look at all the domes out the back. Great stay. Will return
Tips:
Use google maps and it will take you straight to the door - if not you may struggle as there are no signs from main road. Don't be put off by the entrance - it opens out into a reception area - but it doesn't look like that from outside.
Would Recommend: Yes
15th September 2018:

It's a magical place!
Would Recommend: Yes
6th September 2018:

We absolutely LOVED our stay. The location./surroundings/setting of The Lodge Rooms is just echanting and The Cole House bedroom and bathroom were spacious and beautifully designed. The warmth of this friendly family run business is apparent the moment you step foot through the gate. Will recommend to friends and most certainly return if ever in the area.
Would Recommend: Yes
19th July 2018:

Nathalie and her daughter were excellent hosts and really welcoming. The Coal Store Room we stayed in was perfect for our anniversary with its unusual Bathroom. We love the gardens and domes, with rope swings and zip wires so will definitely bringing the kids next time.
Tips:
Bring your mountain bikes as you can ride out of the door and straight into the forest. Symmonds Yat and the River is only about 10 minutes drive away and has some good pubs and walks.
Would Recommend: Yes
25th June 2018:

Fantastic!
Would Recommend: Yes
21st June 2018:

Would Recommend: Yes
21st June 2018:

Great location and a nicely designed room to stay in with the theme. Close to local walking, biking facilities and Symonds Yat where you'll find lots of restaurants on the river and can enjoy a walk up to Symonds Viewpoint. Comfy bed and spacious. Would recommend some new blinds/ curtains in the bedroom and bathroom for privacy and that are fitted to the window for those who wish to have a lie in as it got very light in the room around 4am, instructions for using the shower and a hairdryer would too be a good investment. Overall I would recommend to a friend and the staff seem very friendly!
Would Recommend: Yes
31st May 2018:

Would Recommend: Yes
4th April 2018:

Had an amazing and much needed break at the lodge rooms and will definately return. I loved how it's hidden away in almost a secret location, as when we arrived we thought we were at the wrong place. As soon as we walked inside we were overwhelmed by the beautifully designed interior and fantastic view through the restaurant doors. The owners - lovely family, really friendly and made us feel comfortable. We especially enjoyed home made pizza night followed by sitting around the campfire with the other guests, singing and exchanging ghost stories. Only slight niggle was that there wasn't any toiletries or cups to go with our kettle and coffee in our room. So when the bar/restaurant was closed we couldn't get a cup. However, that was one minor inconvenience compared to magical time we had and they did seem really busy as there were a lot of families camping outside. We really look forward to coming again :)
Tips:
We didn't get much time to explore the area and wasn't too keen on Coleford, but if you ventured a little bit further, there's so many amazing/quirky/beautiful places to see. Food- on Friday night we went to the Saracens Head in Symmonds Yat, right on the river with a beautiful view, food was exquisite and staff were very accommodating- highly recommend. On Saturday night the lodge rooms do a home made pizza night which was out of this world - honestly the best pizza we've all had. You can choose to either learn the making process or simply choose from an array of toppings. They also provide yummy salads and garlic bread.
Would Recommend: Yes
30th March 2018:

We loved our stay the room was very quirky and comfortable! The evening meal and breakfast was first class and we really enjoyed trying the local cider! Our hosts were very welcoming and accommodating just wish we'd been there long enough to sample the oven pizzas! We will definitely stay again in the future Debbie Howard
Tips:
Fantastic location for the mountain bike trails
Would Recommend: Yes
27th March 2018:

Fantastic service and a superb breakfast.
Would Recommend: Yes
14th March 2018:

Unique, quirky place, would love to come back with my family :-)
Would Recommend: Yes
28th February 2018:

A sign out on main road would have been helpful.Drove past several times before we realised we could drive down tiny lane. Really liked our room and decor. Quirky. Very comfortable bed with quality bedding.
Tips:
Spent days walking at Symonds Yat and Puzzle Wood. Great lunch at Saracens Head at Symonds Yat.
Would Recommend: Yes
30th January 2018:

Idyllic, calm and lovely place to enjoy all the Forest of Dean has to offer. Our two kids (4,8) loved the wodden adventure playground, swings etc.Staff were most helpful to accomodate any extras like fresh orange juice, spare duvets etc and even accomodated late check out without extra charge. A very special weekend for the whole family! Thanks for your hospitality1
Would Recommend: Yes
4th December 2017:

- Quirky and stylish design made for an interesting and enjoyable stay. - Room facilities and help with iron appreciated. - Breakfast tasty and excellently presented. - Stairs to bathroom hazardous - watch out for accident risk. - Thanks for an enjoyable stay.
Would Recommend: Yes
29th November 2017:

Would Recommend: Yes
22nd October 2017:

Would Recommend: Yes
24th September 2017:

Loved everything about this place. Never seen a place like it. Very quirky. We stayed in the Coal Store which was amazing. Paid for breakfast which was delicious. Had a wander round the Dome Village which led off the dining area which looked very child friendly. There were plastic domes to stay in as well as mud/clay "prehistoric" huts which relied on you collecting wood for the heating, cooking and cleaning facilities. All set in a large vegetable garden with bamboo growing around you. A large fire pit and pizza oven come barbecue area which must be pretty special in the summer. A hidden gem as they say.
Tips:
We arrived at 8pm which was a bit late to grab an evening meal so on the recommendation of the manger at the Lodge Rooms we took a short drive to a tapas bar in town called Ritmo. The food was amazing as was the atmosphere.
Would Recommend: Yes
6th August 2017:

Amazing place and staff! Would definitely come again
Would Recommend: Yes
31st July 2017:

The two ladies on duty over our stay were very friendly and helpful, our room was amazing and we would definitely come back. The only thing that would of been more helpful is a sign on the roadside, we dove past twice unsure if our sat nav was telling the truth..
Would Recommend: Yes
4th July 2017:

Would Recommend: Yes
22nd June 2017:

We stayed in the lodge rooms not the domes. Loved the quirky bathroom. In the grounds, loved the fire pit. Everyone we chatted to found the domes equally comfy & quirky.
Tips:
Just down the road from Puzzle Wood which is a must. Recommend getting there (the wood) at opening time. There are lots of littles around later but we were on our own for the first 30 mins or so which was wonderful.
Would Recommend: Yes
8th June 2017:

Would Recommend: Yes
26th April 2017:

Unusual. A little quirky. But definitely recommend. The Garden Room was bright and airy and the bed very comfortable. Breakfast was good - and you didn't have to get up at the crack of dawn to enjoy it either. ;)
Tips:
Visit Symonds Yat - park on the East side. Take hand ferry across the river & follow the walk to Biblins Youth Camp. Walk across the suspension bridge & back along the other side. Stunning views :). Also The Kymin worth a visit - owned by National Trust. The Forest of Dean is fabulous but a little tired. As are most of the local towns etc. But if you love walking there's plenty to do in the area.
Would Recommend: Yes
24th April 2017:

Place was absolutely lovely. Beautiful designed. Only thing we have to say was our door didn't lock. However because it's such a hidden place we didn't mind not having the door locked. Lots of stuff to do, not far into town. Got served a full English with orange juice on table as well as choice of cereal and preservatives for toast. I'd definitely stay again.
Tips:
Puzzle wood is a great thing to do with family. Plenty of pubs for food. When we went we only had a takeaway. But plenty of pubs to have food
Would Recommend: Yes
18th April 2017:

Fab place, we really loved how quirky the Coal Store was! We found the shower quite cold... and couldn't work out how to get it warmer. Other than that everything was great and we certainly will be back! :)
Tips:
We had a little trouble finding the dome gardens as there arent any signs but call 07974685818 and im sure they would be happy to help direct! :)
Would Recommend: Yes
21st March 2017:

Lovely little weekend break, the coal store lodge room is perfect! Staff were lovely and really friendly.
Would Recommend: Yes
13th March 2017:

Can not fault this accommodation. We felt completely at home which was largely due to the fact the staff/hosts were so friendly and hospitabal. The accommodation is absolutely stunning, breakfast really good and location perfect! I would definitely recommend this to other travelers and will most certainly be booking another stay soon.
Tips:
Lots to do locally!
Would Recommend: Yes
6th December 2016:

The only thing negative I would say was that it wasn't sign posted! Even just a sign at the entrance to the dirt track would have helped!
Would Recommend: Yes
Owner Response:
We have just had a sign made! So, hopefully, problem solved.
.